The Internet Is Helping This Dying 'Star Wars' Fan Get His Heartbreaking Last Wish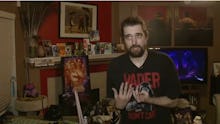 UPDATE: Nov. 5, 2015, 6 p.m.: The Internet succeeds, Daniel's wish has been granted. 
Daniel Fleetwood, a 32-year-old Star Wars fan from Spring, Texas, wants one thing before he dies: to see Star Wars: The Force Awakens. And some of the franchise's biggest stars — think Mark Hamill and John Boyega — are trying to help Fleetwood, who is dying from a rare connective tissue cancer, achieve this via the Twitter campaign #ForceForDaniel. 
Hamill started retweeting pleas on behalf of Fleetwood on Friday, imploring the filmmakers and Walt Disney Studios to let him see it before the scheduled Dec. 18 release. 
Others have joined the campaign in the hopes of helping Fleetwood, who is in hospice care, realize his dream.
His wife, Ashley Fleetwood, appealed to those with the power to make it happen, to act quickly:
The Star Wars fan echoed his wife on Facebook:
Fleetwood's oncologist estimated he would be dead by September, but the couple believe a hope to see the movie is keeping him going. Ashley shared on Facebook how much the campaign alone has meant to her husband. 
And, on Monday, Fleetwood changed his profile picture to him and and his wife dressed as Darth Vader:
"Judging by how progressive the disease has gotten in the past two months, I really don't think that I'll be able to make it [to Dec. 18]," Fleetwood told KPRC. 
An online petition addressed to Walt Disney Studios, Lucasfilm and director J.J. Abrams, has surfaced, asking them to help fulfill Fleetwood's wish. A GoFundMe campaign set up by his wife in September 2014 has gained traction in recent days.
In 2005, Fleetwood made local news after camping outside a movie theater for days to buy the first ticket to Star Wars: Revenge of the Sith.  He also nabbed the first tickets toThe Phantom Menace and Attack of the Clones.
"It's a commitment and he still has that commitment, that drive, and that love and I think that it's a beautiful thing," Ashley Fleetwood told KPRC. "Even if it's just a movie. That's magic for a lot of people."
"I just love Star Wars," Daniel Fleetwood said. "With everything I got, I love Star Wars."
Get the news everyone's talking about delivered straight to your inbox every morning by signing up for MicCheck Daily.