"I'll Show You" Lyrics, Streaming Options for Justin Bieber's New Song Featuring Skrillex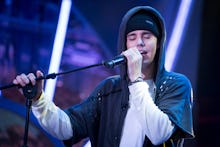 Justin Bieber is showing fans a different side with his latest single, released at midnight Monday and featuring Skrillex. "I'll Show You" is Bieber's latest single from Purpose, the 21-year-old's upcoming album set for a Nov. 13 release.
The "What Do U Mean" singer shared with fans the surprise release via Twitter, writing, "New song. It's out. #IllShowYou #Purpose."
The song can be streamed via Apple Music and downloaded on iTunes. The lyrics center on Bieber's tumultuous experience with fame and growing up in the public eye. It's a reminder to the world that we really don't know Biebs at all:
"This life's not easy/ I'm not made out of steel/ Don't forget that I'm human/ Don't forget that I'm real/ You act like you know me/ But you never will/ But that's one thing that I know for sure/ I'll show you."
Bieber has taken to the streets around the world to promote Purpose, tweeting a series of photos of graffiti from major cities including Berlin, Oslo and London that reveal the album's song titles:
Listen to "I'll Show You" below: