Jamie Foxx Tells Quentin Tarantino to "Keep Telling the Truth" About Police Brutality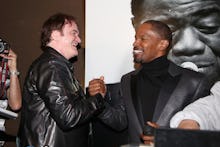 Police departments coast to coast may be protesting director Quentin Tarantino in the wake of his recent comments about police brutality, but actor Jamie Foxx is encouraging him not to give up the fight.
Foxx spoke in defense of the director at the Hollywood Film Awards on Sunday. "Keep telling the truth, keep speaking the truth and don't worry about none of the haters," he said, as he presented an award to the ensemble of Tarantino's latest film, The Hateful Eight.
Foxx, a former collaborator with Tarantino on 2012's Django Unchained, was reportedly the only person to reference the police boycott during the presentation of the award. The ensemble "avoided the controversy," according to the Hollywood Reporter.
Tarantino's controversial comments included referring to police officers as "murderers" and arguing he could not stand by. "I'm a human being with a conscience," Tarantino said at a rally in October in New York, according to the New York Times. "And if you believe there's murder going on, then you need to rise up and stand up against it. I'm here to say I'm on the side of the murdered."
The New York Police Department swiftly called for a boycott of Tarantino's work. Other police departments followed suit.
It's been a controversy-filled season for Tarantino. He made headlines for reportedly implying in a New York Times interview that Ava DuVernay's Selma would have been a better fit as a TV movie. He later had to backtrack and say he never saw the film. In an interview with New York magazine published in August, he took shots at shows like True Detective and performers like Cate Blanchett.
It remains to be seen how all the headlines will affect The Hateful Eight's performance both critically and commercially. Django Unchained was a massive success both at the Oscars and the box office. Can the embattled director replicate the feat?
Watch the trailer for The Hateful Eight below.