This Woman's Response to a Perv Who Filmed Her on the Street Has to Be Seen to Be Believed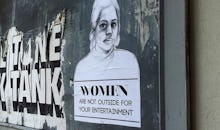 Chances are, if you're a woman in America, you've experienced street harassment: In fact, a 2014 survey found that 65% of all American women have. Jase Dillan, a Boston area musician, said she was subjected to it last week when she witnessed a man filming her "crotch and backside" on the street. But she decided to give her harasser a taste of his own medicine and turned the camera on him.
While on Newbury Street in Boston on Thursday, Dillan said she observed a stranger not only inappropriately filming her, but also doing the same to "at least eight other women that I personally witnessed in less than 10 minutes," including "two girls who could not have been more than 14 years old," Dillan wrote in a Facebook post last week. 
Dillan told Cosmopolitan she initially called a police officer friend of hers, who then gave her the contact information for another officer who could investigate. She said she still felt compelled to personally confront the harasser, and trailed him with her own camera.
"What are you doing?" the man asks when he realizes Dillan is following him, according to the video Dillan posted to Facebook. 
"Does this make you uncomfortable?" Dillan replies. "I'm videotaping you the way you were videotaping me."
When the man feigns ignorance about Dillan's claims, she asks to see his camera.
"You got some really beautiful footage of myself and all the other girls," she says, refusing to back off. She then repeatedly shouts, "You don't like being filmed without your permission?" while following him down the street.
"Maybe you'll think twice next time you want to be a creepy fucking dirtbag," she says, requesting he delete the video he took of her.
"I wasn't scared of him," Dillan told Cosmopolitan. "If you have the balls to do something like this on the busiest street in Boston, you're a special kind of coward ... if you're brash and brazen enough to do that, you deserve to be called out," she said, adding, "I wanted him to feel the shame that comes with a complete stranger violating your privacy."
Although street harassment is an overwhelmingly common experience, many women opt to not speak up about these experiences or even view them as a normal part of life.
"Victim-blaming and minimizing street harassment are both very common all over the world, and as a result, many women stay silent about what they experience," Holly Kearl, author of the book Stop Global Street Harassment: Growing Activism Around the World, told Mic in September. "They learn to adapt in ways that limit their lives but may help them feel safer."
It's worth noting Dillan felt moved to act in defense of the underage women this harasser targeted, as young women are no strangers to this experience. One large-scale 2015 survey conducted by the organization Hollaback! and Cornell University, for example, found that 85% of U.S. women experience street harassment before age 17, and 67% of women report experiencing it before age 14.
Dillan's refusal to passively accept her harasser's treatment, echoes that of organizations like Hollaback!, which similarly encourages women to fight back by sharing stories about their experience with street harassment, and one Dillan hopes women will start to internalize. 
"It's not normal," she said to Cosmopolitan. "No woman deserves that kind of treatment. No person deserves to be dehumanized and objectified."
h/t Cosmopolitan