Ohio Marijuana Legalization: Here's What You Should Know About Issue 3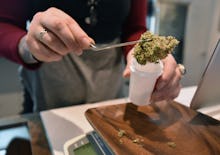 Ohio has faced the possibility of legalizing marijuana since an August petition earned it a spot on the November 2015 general election ballot. But that anticipation will come to an end Tuesday when the state votes on Issue 3, a bill that would make Ohio the first state to legalize medicinal and recreational marijuana use simultaneously. 
The controversy surrounding Issue 3 centers around several specific concerns. ResponsibleOhio, the pro-marijuana advocacy group that drafted the petition, says legalization will create new jobs and regulate an industry that would otherwise operate illegally. According to Fox 8, opponents of Issue 3 say they worry that ResponsibleOhio will monopolize the industry by allowing only 10 sites to produce marijuana, adding that legalizing the drug is dangerous for children. Those opponents created Issue 2 — a bill to be voted on the same day as Issue 3 that would ban monopolies in the state, essentially nullifying the legalization measure. 
If Issue 3 passes, Ohio would join Alaska, Colorado, Oregon, Washington and the District of Columbia in legalizing recreational use of marijuana for those 21 years and older. 
Here's everything you should know about Issue 3:
Who can purchase, use and grow marijuana: The pro-marijuana bill would make it legal for anyone 21 or older to recreationally buy, use, obtain and transport up to one ounce of marijuana, according to the proposed constitutional amendment document. Additionally, anyone 21 years or older with a valid state license would be able to grow, possess and share up to eight ounces of homegrown marijuana. 
Who can commercially mass-produce marijuana: Issue 3 grants to the owners of 10 listed sites statewide exclusive rights to commercially grow and extract marijuana plants, proposing that one more site may be added in four years only if these sites aren't able to keep up with industry demand. 
Who can sell marijuana to consumers: Roughly 1,100 retail locations statewide will be permitted to sell marijuana to customers possessing a proper marijuana license granted by the location's local police force. 
Pot brownies will be legal too: The bill also explicitly states that all marijuana products will be legalized, including "edible products, concentrates, sprays, ointments and tinctures."
There are boundaries: Under Issue 3, marijuana may not be sold within 1,000 feet of public and religious institutions, including schools, centers of worship, libraries and public playgrounds — but these institutions could not prohibit marijuana sales by opening up a new location in the proximity of an existing retail marijuana shop.
The "marijuana control commission": Along with the legalization of marijuana, the bill calls for a state government agency called the "marijuana control commission" to help regulate the industry. The requested members include a physician, law enforcement officer, attorney, business expert, someone with marijuana industry experience and a "member of the public," according to the document. A portion of the taxes placed on marijuana would fund the agency.
Who supports Issue 3: ResponsibleOhio, the bill's primary backer, said Issue 3 will be lucrative for the state, Cleveland.com reports. The group's executive director, Ian James, told Fox 8 that the industry will exist whether or not it's legal. "Marijuana prohibition has failed," he said. "You can get marijuana delivered to your door faster than you can a pizza, so we need to regulate, test and tax marijuana."
ResponsibleOhio investor Woody Taft told Fox 8 that producers and sellers won't take advantage of their rights. "There's no price-fixing, we're not going to behave like a cartel, and if we do, our licenses will be taken away from us," he said.
Who opposes Issue 3: Opponents of the bill have formed their own coalition "Ohioans Against Marijuana Monopolies," Cleveland.com reports. The members, including physicians, legislators and mental health advocates, argue that Issue 3 will monopolize the industry by granting exclusive production rights to the included landowners.
Additionally, many opponents fear the legalization of marijuana will negatively impact the community's health. In a personal essay for the Vindicator in October, Ohio General Attorney Mike DeWine cited Colorado as an example of potential repercussions. "Regardless of what proponents promised, legalizing marijuana sends a message that marijuana is okay and unleashes a huge supply of the drug that easily finds its way into kids' hands," he wrote, adding that Colorado schools have experienced a sharp rise in drug-related punishments since legalization in 2012.
View the full list of official supporters and opponents of Issue 3 on Cleveland.com.