Anthony Bourdain Throws Down a Harsh Truth About Trump's Immigration Plan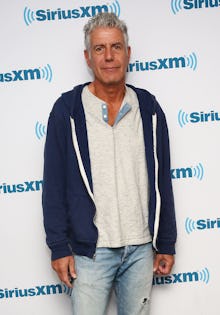 Famed chef and restaurateur Anthony Bourdain divulged some truth to America's foodies. If entrepreneur and Republican presidential candidate Donald Trump has his way, Bourdain told Sirius XM's Pete Dominick, "Every restaurant in America would shut down."
Bourdain slammed Trump's immigration plan, which includes forcing Mexico to finance a wall along the United States-Mexico border and to end birthright citizenship, a precept of the U.S. Constitution. 
Bourdain, who has been in the restaurant business for 30 years and graduated from the Culinary Institute of America, said every time he started at a new restaurant, the person to indoctrinate him in restaurant culture — the person with the longest tenure — was usually a Mexican or Central American worker. He called immigrants working in restaurants "the backbone of the industry." 
Latinos and the restaurant industry: According to the Economic Policy Institute, Latinos and immigrants are overrepresented in America's restaurant industry. While Latinos make up 15% of non-restaurant industry jobs, they comprise around 25% of the restaurant workforce. Immigrants make up almost 16% of the restaurant workforce, while they hold only 8% of non-restaurant jobs. 
Bourdain is not the first top chef to criticize Trump. After Trump's comments about Latinos, chef José Andrés pulled out of a restaurant deal with Trump, as did Chopped mainstay Geoffrey Zakarian. 
As a manager and employer, Bourdain said he rarely saw any American-born people ask to do many of the lower-ranking jobs that a restaurant requires to operate. 
"Not once did anyone walk into my restaurant, any American-born kid walk into my restaurant and say, 'I want a job as a night porter,' or a dishwasher, even a prep cook," he told Sirius XM, adding that many U.S. natives aren't "willing to start at the bottom like that." 
According to the National Restaurant Association, restaurants are a pivotal entry point for many immigrants into the American workforce. 
"Restaurants embody the American Dream like no other industry," the association writes in its issue brief on immigration. "The relationship benefits both sides: Immigrants gain valuable job experience and immediate access to opportunities, and restaurateurs can fill positions at every level."
The issue brief also calls on Congress and the president to "repair" America's immigration system in order to fill the estimated 1.8 million positions the restaurant industry will create in the next decade. 
America's restaurant kitchens are currently experiencing a shortage of cooks, and Bourdain believes that has to do with the entitlement some students feel out of culinary school. 
"All the kids coming out of culinary school, they don't want to do the prep job," Bourdain told Sirius XM. "They're like, they show up out of school with their little knife roll-up and a white coffee filter on their head and they say, 'When do I get to be on Top Chef?' 'When do I get my own show?' 'What do you mean, I have to clean squid for a year?'" 
A larger look: Of course, not all immigrants are here to work in American restaurants. Many of those who work are either in school or have children in school. Currently, one-third of immigrants in the U.S. have a college degree, and according to the U.S. Census, they account for 16% of the country's college-educated population, according to Migration Policy. Whether in the restaurant industry or not, immigrants are contributing.
In the end, Bourdain said he thinks there should be an "easy path to legality" for immigrants currently living here, and called Trump's U.S.-Mexico border wall "ridiculous." 
"We're a country of immigrants," he told Sirius XM. "That's how we were formed." 
You can listen to the exchange between Bourdain and Dominick here: 
Source: Soundcloud