Shocking Police Sexual Abuse Report Is Old News for These 13 Black Women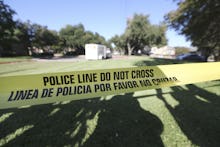 On Sunday morning, the Associated Press revealed that hundreds of police officers across the U.S. had been fired and barred from working in law enforcement between 2009 and 2014 because of sexual misconduct.
The damning report — which took one year to complete — found roughly 1,000 cases where police had their licenses revoked amid findings of rape, sexual assault, propositioning citizens for sex, possession of child pornography and similar crimes over the six-year period.
AP gives special attention to Daniel Holtzclaw, a former Oklahoma City police officer who goes on trial Monday for the alleged sexual assaults of 13 women. But one part of Holtzclaw's story is especially telling: All of his accusers are black, shedding light on an overlooked aspect of the debate around race and police violence in America.
Holtzclaw's alleged crimes are troubling to recount. The first accuser who alerted authorities to his actions — a 57-year-old black grandmother identified in reports as "J.L." —  was driving home from a dominos game on June 18, 2014, when Holtzclaw allegedly pulled her over, made her expose her breasts and forced his penis into her mouth before driving away, according to BuzzFeed.
J.L. and her daughter went to the police station later that night to report him, BuzzFeed reports. The move prompted the Oklahoma City Police Department's Sex Crimes Unit to reach out to other women who'd made similar accusations during the period (2011 to 2014) when Holtzclaw was on the force.
It proved to be an important step. Reports cite J.L.'s case as a turning point in the investigation that led to Holtzclaw's arrest, as she was a visitor to the area and different from the 12 women who later came forward in that she did not have a criminal accusation — either for drug possession or stemming from an active warrant of some kind — hanging over her head as collateral for Holtzclaw to exploit. 
At least eight of the other 12 were mostly locals and of lower socioeconomic status — women who had reason to fear coming forward and whose claims might otherwise have gone unheeded.
Now Holtzclaw faces 36 criminal charges, including first-degree rape, which carries the possibility of life in prison, according to the Guardian. But as the report illustrates, he is but one of many, and far from unique in his targeting of black women. 
This is especially important as various types of police violence against black women and girls draw increased attention across the country. While much of the Black Lives Matter movement has coalesced around killings of unarmed black men and boys like Michael Brown, Freddie Gray and Tamir Rice over the past year and a half, a string of incidents involving women and girls has reoriented public discourse — even as they fail to draw the same public outcry as their male counterparts.
Sandra Bland, a 28-year-old from the Chicago area, was found dead in a Waller County, Texas, jail cell after being pulled over and slammed to the ground by two local sheriff's deputies this summer, an incident that sparked fierce social media backlash and demands for an investigation. Kindra Chapman, Joyce Curnell, Ralkina Jones and Raynetta Turner all joined her soon after, though in different locations — and that was only in the month of July.
More recently, an unnamed student was captured on video being grabbed by the neck, slammed to the floor and dragged across the room by former school resource officer Ben Fields at Spring Valley High School in Columbia, South Carolina, last week.
Women in danger: The South Carolina case in particular highlights how such acts of violence against black women are treated by the public: A few days after it happened, about 100 Spring Valley High students (of 2,059 enrolled) staged a walkout protest at the school — not in support of the girl but of the officer who beat her up.
"[These women's] funerals aren't the site of activism, their mothers don't get invited to the State of the Union or the White House as a symbol of commitment to eliminating this problem," Kimberlé Crenshaw, executive director of the African American Policy Forum, told Mic in May. "That element of erasure sends a message that these losses of life don't matter.
Crenshaw added that there's "a far broader template of being endangered while black that includes black women."
"We ... must recognize other types of violence or else we miss parts of the population," Charlene Carruthers, national director of the Black Youth Project 100, explained in the same report. "When we look at how police and state violence affects black women, it includes black women and girls getting killed. It also includes black women and girls being sexually assaulted, harassed and beaten by officers as well."
A pivotal moment: As these challenges continue to proliferate, the dangers facing black women at the hands of United States law enforcement are as persistent as ever. Perhaps Holtzclaw's trial will be a step toward drawing these into the limelight and treating them for what they are: part of a vital thread of the movement for black lives that the public has yet to fully embrace.
Perhaps there will be justice for the 13.