President Obama to Announce Executive Order Against Criminal Background Checks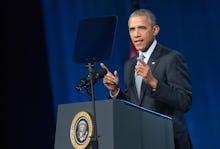 In an executive order that will be announced on Monday, President Barack Obama will move to make it easier for the estimated 12 million-plus ex-felons in the U.S. to find future employment.
According to the Huffington Post's Marina Fang, the order will direct "federal employers to delay asking questions about a job applicant's criminal history until later in the application process," thus removing a considerable obstacle for former convicts' job prospects.
The Huffington Post also reported Obama will announce other initiatives geared toward reintegrating former convicts, such as housing and employment grants, job-training partnerships, better access to legal aid and the removal of some obstacles to admittance to public housing.
Prior studies have found considerable bias in the hiring process against people convicted of committing crimes and that many employers continue to run criminal background checks before hiring.
On Monday, the Associated Press reported that the president's planned criminal justice reforms are a "remarkable shift in tone" after decades of political wariness among candidates concerned about being seen as weak on crime. Obama told a gathering of police chiefs last week he was looking to make sure there was "serious and robust debate over fairness in law enforcement," according to the AP, and suggested he had been racially profiled by police before he was famous.
In early October, the Department of Justice announced plans to release more than 6,000 federal inmates incarcerated for nonviolent drug crimes as part of a wider series of reforms designed to shift those offenders into rehabilitation rather than punitive programs. The last of the 6,000 inmates selected are scheduled to be released by Monday. The Washington Post reported that the new sentencing guidelines could eventually see around nearly half of the 100,000 people in federal prison for such crimes get early releases.
With sentencing reform being a mostly bipartisan project in D.C., the moves have not been universally popular. Republican candidate for Louisiana governor David Vitter recently aired a political ad accusing the Obama administration of releasing "6,000 criminals from jail," as well referring to the prisoners as "dangerous thugs."