Anonymous Just Released Emails and Phone Numbers of KKK Members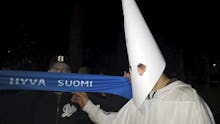 Thanks to the self-proclaimed "hacktivist" group Anonymous, the email addresses and phone numbers of 40 allegedly active members of the Ku Klux Klan became public on the Internet on Sunday. 
Anonymous, infamous for hacking highly-protected CIA and Islamic State group data in the past, announced on Oct. 28 in a press release that it would soon release the identities of up to 1,000 active Ku Klux Klan members — and it seems they've gotten started on fulfilling that promise. The lists, published to the text-storing site Pastebin, includes the over 20 email addresses and more than 40 phone numbers of allegedly active members of the white supremacist group. 
View the full lists here.
The cyber attack is a response to the KKK's 2014 threat to use "lethal force" against those involved in the Ferguson, Missouri, protests after the killing of unarmed teenager Michael Brown. While these newly released lists don't live up to Anonymous' original promise of releasing full names and contact information of up to 1,000 KKK members, the release of that information is still slated for Nov. 5.