Underage Models, One of Fashion's Biggest Problems, Is Finally Getting Tackled by Congress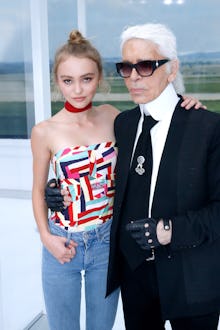 It's no secret that when it comes to fashion, beauty and youth reign supreme. Our societal fixation on looking youthful, evidenced by a $114 billion anti-aging industry, can't be uncoupled from the young-looking faces staring back at us from magazines and billboards.
The unspoken problem, however, is how young those youthful faces really are. The fashion industry has long scouted models in their young teens, a problematic practice that only periodically comes under scrutiny.
Now, a bill introduced to Congress aims to address problems facing young adults, especially teen girls, employed by the fashion industry. The Child Performers Protection Act 2015 will add provisions to the current Fair Labor Standards Act to regulate the working hours and compensation for young performers, according to a statement from Rep. Grace Meng (D-N.Y.), who proposed the bill. Specific restrictions would be based off the age of the child models and actors who would also be provided cash wages. 
For models, the compensation is incredibly important, given the industry norm to pay models in "trade," aka clothing. The proposed bill also provides a route for models to pursue allegations of sexual misconduct.
"Working as a child model or actor can be an incredible opportunity and lead to success for a lifetime," Meng said in the statement. "However, the work can come with much risk. ... Although there are a patchwork of disparate state laws, these regulations offer inconsistent protections. That's why we need a national standard."
The real problem with fashion's youth obsession: There's been an ongoing debate in fashion regarding the appropriate age for models to pose for ad campaigns or editorial spreads, or walk in runway shows. The issue came to the forefront a few years ago, after a flurry of incidents of teen models posing in overly sexualized ways, working long hours or not being sufficiently compensated.
The debate resurfaced recently when 16-year-old Lily-Rose Depp, daughter of actor Johnny Depp, became the latest muse to Chanel designer Karl Lagerfeld, starring in the brand's eyewear campaign and walking the runway. 
Even more controversial this year was the casting of 14-year-old Sofia Mechetner in Christian Dior's Couture Fall 2015 show, in which she wore a see-through dress, her breasts peeking out underneath.
It's an uphill battle to regulate the work conditions for young models, not to mention standardize the age requirements. Models often work with no clear start and end times, which makes it difficult to monitor whether they're being overworked. 
The Council of Fashion Designers of America has issued guidelines for designers considering hiring young models, but the organization can't legally enforce any of its suggestions, particularly for the countless retail companies across the country that aren't CFDA members. Even with the best of intentions, young models slip through. The council's president, designer Diane von Furstenberg, suffered a blunder when she herself accidentally cast a 15-year-old model to walk in her show.
Legally, modeling regulations and working conditions vary by state, as the New York Times' Vanessa Friedman points out. In 2013, the state of New York made progress by passing a bill to designate fashion models under 18 as child performers, affording them those labor protections. 
Proponents of stricter oversight say young fashion models are often treated like adults, even though they don't have the maturity to navigate the industry themselves.
"Models really are uniquely vulnerable, and I think people take for granted that in traditional employment relationships, there is some measure of protection that simply isn't there or at least isn't being recognized or enforced in our industry," Sara Ziff, a former teen model who founded the Model Alliance, told CNN.
Time will tell if the congressional bill makes it to a vote. It's currently awaiting further action with the committee on Education and the Work Force.
November 2, 2015, 5:30 p.m.: This story has been updated with a comment from Rep. Grace Meng's office.