These Aren't the Lingerie Models You See in Victoria's Secret Ads — But You Should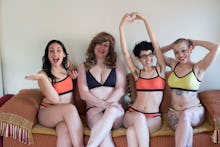 What comes to mind when you think of the words "lingerie campaign"? Super-slim models with perfect blowouts? Blondes angling their bodies to show off their thinnest angles? Breasts hoisted up higher than you ever thought they could go? Bodies shaved, waxed and plucked from head to toe? 
Some women may identify with such near-perfect, bra-clad specimens, but plenty of women don't.  
And that's just one thing Neon Moon, a U.K.-based lingerie retailer, wants to change. 
Neon Moon's latest campaign, which debuted on Monday with the hashtag #IAmNeonMoon, includes models far from the plucked, pushed-up, Photoshopped norm, for some of the most inclusive lingerie ads we've ever seen. 
Neon Moon founder and CEO Hayat Rachi, who started the "feminist lingerie brand" in 2014, stripped down herself to model the pieces without shaved armpits, something that's rarely celebrated in the typical all-shaved-everything ads for Victoria's Secret. 
The same goes for celebrating women of all sizes: Neon Moon cast a plus-size model to wear an orange set in the campaign. Another model shows off her bright bra-and-undies combo with a shaved head, effectively challenging the only-long-hair-is-sexy norm. 
"We want to encourage women to confidently identify with our models and feel reflected," Rachi said in a press release. "It's not a bad thing for women to feel happy in their own body, and to also encourage other women to do the same."
A transgender model also stars in the campaign, highlighting Neon Moon's mission to manufacture stretchy panties and bras that would be comfortable for varying body types. 
"Transgender women should not be obligated to look like cis women in order to be considered beautiful by society," Rachi said, according to the press release. "It's all about women being comfortable in themselves whilst being comfortable in Neon Moon feminist lingerie."
Currently, Neon Moon bras and panties are available in U.S. sizes 0 to 14 — not the most inclusive size-range we've ever seen. However, Rachi did tell Refinery 29 back in March, when Neon Moon was being funded on Kickstarter, that there are plans to expand its size range. 
A changing lingerie tide: The campaign is another sign of a slowly but surely shifting tide when it comes to beauty standards. Lingerie has been no small part of that shift, as the bra-and-panty industry serves as a vehicle to take on gender norms and expectations of sexiness.
"This year has truly been eye-opening to how important it is for women and especially young women to see themselves represented, whether that be with stretch marks, cellulite, body hair, freckles, scars or any other natural attributes," Rachi told Mic. 
"It's important to see what is perfectly normal and healthy on other women, as opposed to seeing Photoshopped versions of the very narrow standard of 'beauty' we're all so used to," she said. 
"This year has truly been eye-opening to how important it is for women and especially young women to see themselves represented."
It should also be noted that the entire Neon Moon campaign is untouched by airbrushing, a practice more brands are embracing, including big-time retailer Aerie, the loungewear offshoot of American Eagle. In August, Aerie debuted the second of a series of ads without any retouching, with actress Emma Roberts as the star model.
Roberts told Refinery29 in July, "It's important for me to be a part of this, because I see how hard it is for girls my sister's age with social media, and feeling like they need to look a certain way."
Why now? We're finally seeing progress when it comes to different bodies modeling lingerie and who gets to be considered "sexy." Why now?
"Because there is much more awareness, and people are becoming less ignorant," Rachi told Mic. "It's important as a fabric of today's society that if women want economic, social and political equality, we must address how inclusive we are to women in not being sexualized, objectified and solely aimed for the male gaze — and that's exactly what Neon Moon is proudly doing."
With society changing, the lingerie industry is clearly taking note — and helping move things along.