Behind the Scenes of Obama's Trip to a Drug Facility Helping to Fight Mass Incarceration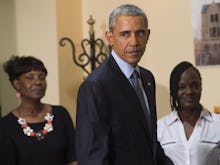 On Monday, President Barack Obama flew to Newark, New Jersey, to shine a light on the institutions needed to ensure that once someone leaves prison, they never return.
In the United States more than two-thirds of former prisoners, most of whom suffer from mental health or substance abuse problems, end up rearrested within three years. That extraordinary recidivism rate was top-of-mind for the president when he visited Integrity House, a drug recovery center that works closely with former prisoners suffering from substance abuse problems to help them regain control of their health and their lives.
"We believe in treating the whole person — and making sure that we stay with the person until they have successfully re-entered with a job and safe housing," Robert Budsock, president and CEO of Integrity House, told Mic ahead of Obama's arrival.
During his visit, Obama met with clients staying at Integrity House and praised the center's "outstanding" work, calling it an example of "what is working," according to a White House pool report.
Several clients at Integrity House who met with the president spoke with Mic about their meeting, and said they were awestruck by the experience. When they had the president's ear, they said, they divulged the details of their struggle with drugs and crime, and in the process illustrated how programs like Integrity House are integral to the struggle to end mass incarceration.
The meetings: Daryl Rose, 56, is a resident at Integrity House, and has a long history of run-ins with the law. He's been sober for eight months, but his drug use largely fueled his 15 previous convictions, five of which led to him being incarcerated. After spending six months in jail after his last arrest, he told Mic, he was offered treatment through drug court instead of prison, and he took the opportunity — one that he describes as the most successful of any program he's been in.
"Integrity House is a big improvement in my life — I've never taken the time to really look at myself [or] even given myself a chance," Rose, who has been at Integrity House for a month, told Mic. "It's helped me re-evaluate my situation my values in life and I'm grateful for being here."
Rose met with Obama on Monday, along with his mother and sister, and said the experience was "monumental." Their conversation included some serious talk about how to change the status quo on criminal justice reform, he told Mic.
"We spoke about the [criminal justice] reform act that's they're trying to pass [in Congress], the drug program and its success rate and reentry into society — and the need for improvement in it," Rose said. 
Terry, 23, told Mic he was struggling with an addiction to Percocet when he was caught selling heroin in 2012. He had two options: take four years in prison, or undergo an intense program of scrutiny and treatment under the supervision of New Jersey's drug court program. He chose the latter, and over the course of the program was recommended to enter Integrity House, where he's been for over five months.
"Integrity House has helped me with a lot of my behavior problems," Terry, who requested his last name be withheld, told Mic ahead of the president's visit. "It's helping me open up a little more to the point where I can forgive myself for the actions I have caused due to my anger problems."
When Terry spoke to the president during his visit, he found the interaction to be strikingly intimate.
"It was a heart-to-heart. I felt like I could express my feelings to him. I let him know what kind of struggle I was going through, and let him know how Integrity House brought be out the gutter," Terry said. "He gave me a little feedback about how he was when he was younger, and how he made bad decisions but never ended up in prison — how he knows what I'm going through."
The problem: The president's visit to Integrity House on Monday was just one part of his trip to Newark, where he appeared with New Jersey Democratic Sen. Cory Booker and Newark Mayor Ras Baraka to highlight aspects of the criminal justice system in desperate need of reform. At an appearance at Rutgers University, Obama announced a new executive order preventing federal agencies from initially screening job applicants based on their criminal history, a change known as "banning the box."
More than 600,000 people are released from state and federal prisons every year, but upon their release they face a host of obstacles that make reintegration into society an enormous struggle. Systematized discrimination in the housing and job markets, severance from civic life, and inadequate assistance for the mental health and substance abuse issues that afflict most of them swirl together into a perfect storm just as they attempt to gain their footing.
Drug treatment centers like Integrity House are among the few places of refuge in society for ex-convicts trying to get their lives back on track. The basic premise for entry is struggle with substance abuse or addiction, but the center's vision for rehabilitation is far more expansive, focusing as much on issues like housing as drug use.
Budsock, the president and CEO, says Integrity House serves over 2,000 people every year and offers everything from therapy to supportive housing to outpatient programs, all under one roof. The group also helps former prisoners suffering from addiction to re-enter society with a greater chance at stability and sobriety. In some cases, a stay at Integrity House is an alternative to prison time altogether.
The facility offers client-centric treatment regimens that vary greatly based on the needs of the individual, but the general idea for clients staying in-house is to participate in a therapeutic community that fosters the foundation for a healthy lifestyle. The pillars of its treatment philosophy are medical care, employment services, assistance with finding appropriate housing, and emotional and social enrichment of the individual. The treatment regimen grows less intense as an individual progresses, but it's designed to be available to a client at any point in the future, whether the problem is a relapse or trouble finding a job.
It works: Integrity House's belief in the interconnectedness of a client's problems has been successful. 
According to Budsock, while the county correctional facility's recidivism rate for nonviolent low-level offenders is between 65% and 70%, the recidivism rate for individuals who have participated in the full continuum of services at Integrity Center is down to about 20%. The center also outperforms many other state drug recovery centers in matching clients with housing or helping them achieve sobriety. Two-thirds of its halfway house clients leave the program with a job.
Integrity House came into being as the result of an experiment by a particularly restless Newark parole officer named David Kerr in the 1960s. Tired of seeing drug addicts from his caseload continually trip up and land back in prison, Kerr studied drug addiction and devised his own group counseling sessions, which he first held in garages and backyards. 
The model seemed to work and grew in popularity. Eventually he and a partner quit their jobs, bought a cheap house in Newark and moved five parolees move in, providing constant support and supervision. What's especially remarkable is that the house was bought in 1968 — just a year after Newark saw massive riots spurred by racial tensions, and the beginning of the harshly punitive turn in America's criminal justice system.
Today, Integrity House serves as a testament to the idea that rehabilitative services that treat drug addiction as a disease rather than a crime can be a more effective approach to changing behavior than prison.