Ohio University Fraternity Suspended for Singing "Send Nudes" on Sorority's Doorstep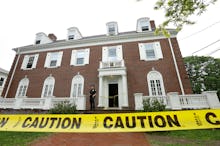 The Ohio University chapter of the Acacia fraternity was suspended this weekend after video surfaced of members singing a song to a sorority at the school requesting they "send nudes." 
Ohio University senior Olivia Hitchcock witnessed the disturbing (but probably not surprising) scene taking place on the doorstep of the sorority Alpha Delta Pi on Wednesday. "Send nudes, don't let me down/ Take my soft dick and make it harder," members of the Ohio University chapter of the Acacia fraternity sing — to the tune of the Beatles song "Hey Jude" — in a video of the incident.
Hitchcock, a copy chief for the Post campus newspaper, posted the video to Twitter that evening. Now, the fraternity is suspended pending an ongoing university investigation, the Athens News reported early Monday morning.
While Hitchcock didn't identify the exact organization with which these men are affiliated, an Ohio University spokeswoman confirmed to the Daily Dot on Thursday that a "preliminary investigation" quickly revealed the men were members of the Acacia fraternity. The spokeswoman added the organization had been "issued a directive to immediately cease and desist all organizational activity while the investigation is ongoing."
This is not the first time this specific fraternity has been targeted for sexually predatory behavior. A petition asking Ohio University to ban the fraternity because they "drug and rape women" circulated last year, and this year some students passed out a pamphlet during new student and freshmen orientation alleging that Acacia's house is known for "drugging and raping women," according to the Athens News.
Acacia isn't an outlier. Fraternities across the country have been perpetuating a variety of actions that sexualize and objectify women for years. In 2013, a member of the Phi Kappa Tau fraternity at Georgia Tech referred to women as "rape bait" in an email to his brothers. In August of this year, members of the Old Dominion University chapter of Sigma Nu displayed signs bearing phrases like "Hope your baby girl is ready for a good time" at a house where several brothers lived. And just a few weeks ago, members of the Sigma Alpha Epsilon chapter of University of California, San Diego, participated in an objectifying ritual called "rush boobs," which involved requesting women on campus send photos of the phrase "Rush (Insert Fraternity Here)" written across their otherwise bare chests. The list goes on. 
While Ohio University's decision to take the fraternity's actions seriously is commendable, it's worth noting that many have questioned the efficacy of banning fraternities in response to such incidents. Such behavior is rooted in far more systemic issues, and the solution may be found in creating change within these organizations. As Jonathan Kalin, founder of the organization Party With Consent, told Mic in April, "all-men spaces are extremely powerful in their ability to flip the script on performing masculinity." Rather than submit to degrading, sexist behavior — like asking sorority members for their nude photos — fraternities would do well to challenge themselves to imagine a more enlightened future.
h/t Athens News