'Girls' Season 5: Teaser, Release Date and More for HBO Series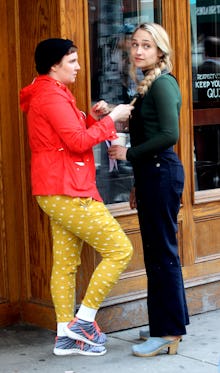 The fifth season of Lena Dunham's HBO series Girls will premiere a week after Valentine's Day 2016 — and Dunham, who plays Hannah Horvath on the show, exhibited the perfect "I survived Valentine's Day" dance in a teaser released on Monday. 
Following last week's HBO announcement that the show would return on Feb. 21, the network released a 25-second teaser of Hannah awkwardly breaking it down in a sports bra and shorts, foreshadowing a season full of Hannah's relatable quirkiness. 
More season five teasers: The season will feature 10 episodes and all regular cast members, including Ebon Moss-Bachrach and Jake Lacy who guest-starred last season as Desi and Fran Parker, Entertainment Weekly reports. Photos of the crew filming on the streets of New York back in April indicate a cameo from Lucy Liu, among other plot teasers. 
The show won't go on forever: In a September interview with radio host Elvis Duran, Dunham disclosed that Girls may wrap after six seasons, just as her character exits her 20s. "Never say never, but ... we're starting to think about sort of how to wrap up the story lines of these particular young women," she said. 
"I started working on this show when I was 23, and now I'm going to be 30 so it kind of feels right that this show kind of sandwiched my 20s, and then I go off into the world," she told Duran.