Lil B Takes Shots At the Weeknd in Latest Song, "4 Tha Record"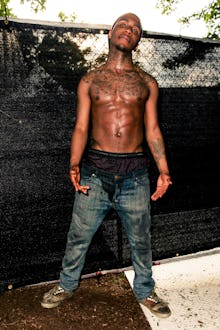 Lil B may or may not have just fired shots at fellow artist the Weeknd in a single and music video released on Sunday — or he may just be jealous of the hip-hop star's recent success. In "4 Tha Record" the 26-year-old rapper says, "Fuck the Weeknd," then immediately betrays his own envy.
The lyrics will more than likely call for a parental advisory, with the rapper, who also goes by "BasedGod," rhyming about trafficking an enemy's daughter, selling drugs and pimping prostitutes, as well as that aforementioned beef:
"Saying fuck the Weeknd, I can't sing that soft/ I still know the struggle I get so jealous ... A lot of sucker fake so I can't respect it/ Fuck the Weeknd, put that on record."
"4 Tha Record" is the first indication of any bad blood between the two artists, although the Weeknd has yet to reply. The Weeknd's single "The Hills" has held the No. 1 spot the Billboard Hot 100 for six straight weeks, and the he appears on the cover of Rolling Stone's November issue. 
It seems like 2015 continues to be the year of shade in the hip-hop music industry.