Adele's New Album '25' Is Coming Soon — Here's How She's Going to Be Promoting It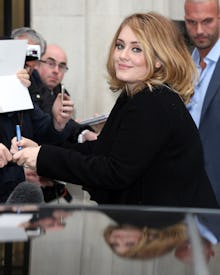 Adele will hit the media circuit to promote her wildly anticipated album, 25, which is set for a Nov. 20 release. The following day, the 27-year-old British songstress will appear on Saturday Night Live for the first televised performance from the new album.
This month Adele will tape a concert at Radio City Music Hall in New York City, which will air on NBC on Dec. 14. (Get ticket info here.) Fans can also catch her on The Tonight Show Starring Jimmy Fallon on Nov. 23 and Today on Nov. 25.
25 marks Adele's return to the spotlight following a three-year break from music after releasing her second studio album, 21. The music video for "Hello," the first single off of 25, has nearly 200 million views on YouTube since its release last week.