Lawrence Lessig Is Dropping Out of the Race for the 2016 Democratic Nomination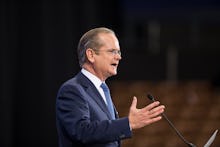 Lawrence Lessig, the Harvard professor who announced his campaign for president just three months ago, is dropping out of the race.
In a video posted early Monday afternoon, Lessig, a Democrat, said his failure to be included on the debate stage in the Democratic debates had forced him to abandon his long-shot bid, which was focused on reforming campaign finance laws.
"I must today end my campaign for the Democratic nomination, and turn to the question of how best to continue to press for this reform now," Lessig says in the video.
Why he's quitting: Lessig was left out of the first Democratic debate despite claiming to have raised $1 million toward his candidacy. Lessig says that the rules, which required candidates to be polling at 1%, unfairly excluded him, since his name had not been included in most national surveys.
"From the start, it was clear that getting into the Democratic debates was the essential step in this campaign," Lessig says. "I may be known in tiny corners in the tubes of the Internets, but I am not well-known to the American public generally. Our only chance to make this issue central to the 2016 presidential election was to be in those debates."
He then pins the blame on the Democratic National Committee's rules for which candidates will qualify for future debates.
"Last week, we learned that the Democratic Party has changed its rules for inclusion in the debate," Lessig says. "Under the new rule, unless we can time travel, there is no way that I will qualify."
Lessig launched one last salvo against the DNC and the party establishment.
"It is now clear that the party won't let me be a candidate, and I can't ask people to support a campaign that I know can't even get before the members of the Democratic Party," he says. 
Lessig's campaign: Lessig's short-lived campaign never really got off the ground, in part because of his exclusion from the polls and the debates, but also because the rationale for his candidacy was always a bit quixotic.
Lessig had vowed to focus his candidacy on a single issue: fighting Citizens United and what he sees as the corrupting influence of money in politics. His pitch revolved around passing a "Citizens Equality Act" as president, which would increase public funding of elections and combat gerrymandering. Once the bill was law, Lessig said he would immediately resign.
Lessig expected that the singular focus on the issue of campaign finance reform would find a warm reception among Democratic primary voters, given the broad support in the party for overturning Citizens United. But his exclusion from the debates, coupled with his unorthodox vision of the powers of the presidency, meant that his campaign ran out of runway before the engines even had the chance to rev up.
Watch Lessig's announcement here: