Ariana Grande Has a Powerful Message for Body-Shaming Haters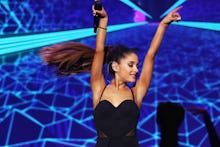 Unlike most of us, Ariana Grande isn't afraid to read online comments. And if she sees some body-shaming bullshit, she's not afraid to call it out, either.
We learned this much on Monday, when the pop starlet posted to Twitter a screenshot of a tweet. In the tweet, the author wrote that they "Got asked if I'd prefer [Ariel Winter] or [Ariana Grande] lol, it wud DEFINITELY be [Ariel] ... curves are sexy sticks aren't."
Grande didn't really love being the subject of this stranger's casual judgment, which implied that because she is a thin woman, she is not as sexy as her curvy counterparts. So she decided to share her response with her 33.5 million Twitter followers, captioning it with, "Sure I'm not the only 1 feeling this way today!! in case you need a reminder, you're beautiful."
"We live in a day and age where people make it IMPOSSIBLE for women, men, anyone to embrace themselves exactly how they are," she wrote. "Diversity is sexy! Loving yourself is sexy!" Then she listed a number of things that are decidedly unsexy, such as misogyny, "labeling" and judging peoples' bodies "as if they're on display ASKING for your approval/opinion. THEY ARE NOT!!!"
While targets of body-shaming are often outspoken about being fat-shamed, Grande's incident is an example of what happens when the shamed party is actually being criticized for not being "curvy" enough. (Because when it comes to body-shaming, you truly can never win.) She's not the first female celeb to be skinny-shamed, either. Earlier this year, E! News personality Giuliana Rancic responded to people who thought she looked too thin at the Golden Globes in January. "I'm sorry that some people think I'm disgustingly skinny, as they put it," she told People. "But there's nothing I can do."
Back in 2013, Kendall Jenner also responded to critics who skinny-shamed her, telling Harper's Bazaar Arabia that "I'm constantly criticized for being too skinny" and that "calling someone too skinny is the same as calling someone too fat, it's not a nice feeling."
 But like Grande wrote in her note, it's best to combat the madness with a healthy amount of body positivity, whether you're thick or thin or in-between: "CELEBRATE YOURSELF. CELEBRATE OTHERS."
Mon., Nov. 2, 2015 3:14 p.m.: This story has been updated.