This Stunning Street Art in South Korea Is Only Visible When It Rains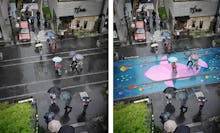 Paint company Pantone teamed up with designers for "Project Monsoon," an initiative to make South Korea's capital, Seoul, a little less dreary during monsoon season. They've used a special paint to create bright, maritime-themed scenes that only appear when the streets are wet. How? The colors are activated by water. 
Seunghoon Shin, Yoonshin Kim and Nu Ri Kim, all affiliated with School of the Art Institute of Chicago, are the creative minds behind the project. 
"[We had an idea] to bring back the color," Yoonshin Kim wrote on his website. "We painted the streets of Seoul with hydrochromic paint — a special formula which changes from transparent to opaque when it gets wet."
Kim added, "Inspired by South Korea's culture of emphasizing the importance of the flow of rivers, the paintings utilize Korea's topographical features that create a flow and puddle of rain water in every street to fill the streets with color and life."
Here are a few examples:
Monsoon season, or changma, technically lasts for 30 to 40 days, starting at the end of June and lasting for most of July (the summer season sees a great deal of rain throughout, however). Seoul's average rainfall for August alone is almost 14 inches. To put that in perspective, New York gets an average of around 4 inches during the same month.
Design & Art Direction awarded Project Monsoon the 2015 New Blood Black Pencil and Yellow Pencil Awards. D&AD, a collective of artists and designers, distributes "awards celebrating the finest creative work in the world," according to its website. 
Given the unprecedented awesomeness of this street art, it might just be worth clinging onto your umbrella and running through the streets of Seoul. Rain never looked so good.