This Supreme Court Case Shows How Prosecutors Are Stacking the Deck Against Black People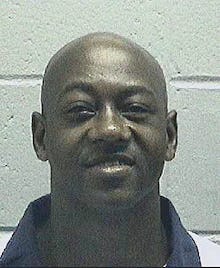 Nearly 30 years ago, an all-white Georgia jury sentenced 18-year-old black man Timothy Tyrone Foster to death for the brutal 1986 sexual assault and murder of 79-year-old Rome, Georgia woman Queen Madge White in her own home. During his closing arguments, lead prosecutor Stephen Lanier told the jury a sentence of death would "deter other people out there in the projects."
This week, Foster's appeal process moved to the United States Supreme Court as his current legal team argued that the all-white jury that decided Foster should be put to death was unconstitutionally selected to be such. Their claim was backed by recent revelations that Lanier sought excuses to exclude potential black jurors from Foster's trial.
The Associated Press reports six out of nine U.S. Supreme Court justices seemed "troubled" by the details in the case, with Georgia Deputy Attorney General Beth Burton finding "little support on the court for the proposition that prosecutor Stephen Lanier advanced plausible 'race-neutral' reasons that resulted in an all-white jury for Foster's trial."
Lanier's explanations for why he dismissed all potential black jurors seem to have varied, including one juror who was dismissed because her cousin was arrested, well after the prosecutor had become aware of the arrest.
Documents kept by the prosecutor's team featured potential black jurors' names highlighted in green, as well as other "almost comically egregious" hints Lanier was looking to boot them because of their race. 
"The notes reflect that the prosecution (1) marked the name of each black prospective juror in green highlighter on four different copies of the jury list; (2) circled the word "BLACK" next to the "Race" question on the juror questionnaires of five black prospective jurors; (3) identified three black prospective jurors as "B#1," "B#2," and "B#3"; (4) ranked the black prospective jurors against each other in case "it comes down to having to pick one of the black jurors;" and (5) created strike lists that contradict the "race-neutral" explanation provided by the prosecution for its strike of one of the black prospective jurors."
The state of Georgia argues Lanier was merely identifying potential jurors who were black for nondiscriminatory reasons rather than actively attempting to stack the deck against Foster's defense team.
PBS reports another document shows that at one point, the prosecution kept a handwritten list of "Definite No's" highlighting six people; five were black. According to PBS, an investigator with the prosecution additionally kept a list of potential black jurors preferentially ranked in the event "it comes down to having to pick one of the black jurors."
Foster's conviction highlights a serious gap in precedent establishing that race is not an acceptable basis for jury selection in the 1986 case Batson v. Kentucky. While the Supreme Court decided that prosecutors may not dismiss a potential juror via peremptory challenge because of their race, as well as established ways for defendants to demonstrate racial bias in jury selection, racial discrimination persists in the jury selection process since all a prosecutor generally needs to do is cite another reason for the dismissal.
According to the nonprofit Equal Justice Initiative, a 2010 investigation involving 100 interviews with African-Americans excluded from juries on the basis of race revealed "widespread" evidence of bias, including that "some district attorney's offices explicitly train prosecutors to exclude racial minorities from jury service and teach them how to mask racial bias to avoid a finding that anti-discrimination laws have been violated."
According to the Associated Press, a decision in the case is "expected by late spring."