Rachel Dolezal Admitted She Was Born White and Received a Huge Applause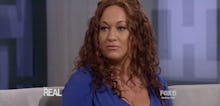 Rachel Dolezal, the former president of the Spokane, Washington, chapter of the NAACP, got very real on Monday. Dolezal's latest foray back into the spotlight, after making headlines in June, came courtesy of Fox's daytime talkshow The Real. On Monday's episode, she sat down with the show's hosts — all women of color — and came out and said it: She was born white.
What followed, Dolezal told Mic, was a conversation that did not go as planned. "I am disappointed that the conversation was less than friendly," Dolezal told Mic in an email Monday. 
What went down: Toward the end of the segment, after Dolezal reminded viewers that police officers who write her tickets view her as black and that she is a professor of African history, host Jeannie Mai turned to Dolezal and said, "You weren't born black, so when you say you are black, it makes it hard for people to understand where you're coming from." 
"Right and that's why I said, I acknowledge that I was biologically born white to white parents," Dolezal said on The Real. Before Dolezal could finish her statement, the hosts and the audience members erupted into applause. When the applause died down, Dolezal completed her statement. 
"But I identify as black," she added.  
Host Loni Love asked Dolezal questions about her past, including her time at Howard University, according to video of the exchange posted on Gawker. Dolezal said she was not required to check a box to indicate her race during the application process. Mai asked Dolezal which box she would have checked had she been forced to. 
"I think, when it comes to forms, the form in particular usually defines things," she began. When Dolezal began to talk about her history of teaching African history and black studies, host Tamar Braxton interrupted her.
"Yeah, but which one did you check, though?" Braxton said. The audience applauded. 
"I checked white and black because we all have human origins in the continent of Africa," Dolezal responded.
As the segment came to a close, Mai congratulated Dolezal on her pregnancy, to which Love quipped, "So, I guess the baby's black, huh?" 
Dolezal did not respond and instead sat in silence. "Don't look at me like that!" Love said. 
A parting gift: Dolezal said that during her time on the stage, she presented the hosts with an original painting but that moment did not end up in the edited version of the show that went to air. Dolezal shared an image of the painting with Mic.