Anonymous 2015 KKK Leak Allegedly Reveals Names of Elected Officials Through Data Hack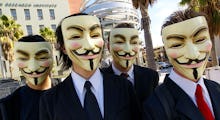 The infamous hacktivist group Anonymous began leaking information about allegedly active Ku Klux Klan members over the weekend, including a list of nine senators and mayors that the group claims are affiliated with the KKK or are "racist related." 
The supposed list was published on Saturday as part of Anonymous' larger data hack of the KKK. Anonymous declared cyber war on the KKK after the white supremacist group threatened to use "lethal force" on protesters of the 2014 Ferguson, Missouri, protests after the killing of unarmed teenager Michael Brown. The "hacktivist" group has promised to release up to 1,000 identities of active KKK members on Nov. 5, but some data is being released early. 
Anonymous said a political figure's email address appearing on the list didn't automatically mean that person was a member of the hate group. Anyone with access to one of those email addresses could have used it to register with the organization. 
A similar point was raised in August when hackers revealed the alleged email addresses of some 32 million members of the extramarital affair site Ashley Madison. The site never required email verification, so finding someone's email on the list didn't prove they had set up an account.