'New York Post': Jimmy Fallon's Injuries Result of Drinking, NBC Worried Over Party Ways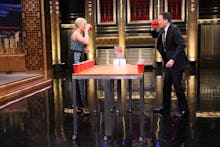 The New York Post is reporting NBC executives are concerned by Tonight Show host and former Saturday Night Live star Jimmy Fallon's recent injuries, saying the network is fearing Fallon's multiple hospital visits are from drinking and excess partying. The tabloid report follows Fallon's second recent hand injury, when he tripped and dropped a bottle of liquor while accepting the Harvard Lampoon Elmer Award for excellence in humor on Oct. 24.
"He's a mess," a bartender who the New York Post identified as someone who regularly serves Fallon told the publication. "Everything you've heard [about his behavior] is true."
Former SNL cast mate Horatio Sanz told Vulture last year he and Fallon were "super functioning alcoholics" while they worked together on the sketch show, and that the late night host had been in a few bar brawls during that time. "They say that kind of goes hand in hand with SNL," Sanz told Vulture. "Some kind of substance-abuse issues, because it's so stressful you easily find yourself blowing off steam a lot." 
Sanz also told Vulture he'd "seen Jimmy clock a few people."
Neither Fallon nor NBC has made a formal statement on the rumors. The New York Post claims an "industry insider" told the publication the network's discussion about Fallon's drinking has "gone from being a whisper to a chatter."
However, the New York Post did quote a note they received from NBC on Fallon. It read: "His dedication in putting on a great show each and every night is unparalleled, and that is reflected in the large amount of viewers who tune in — he frequently outrates the broadcast competition combined. We are proud of his accomplishments on and off camera and look forward to working with him for many years to come."