Porsche Recall 2015: How to Find Out if Your Car Was Affected by Volkswagen Scandal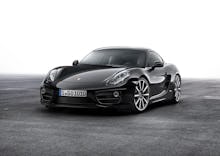 After its parent company Volkswagen was outed for cheating emissions standards in September, luxury car brand Porsche has recalled almost 60,000 vehicles worldwide for engine leaks, according to a press release issued Friday.
"This is a purely precautionary measure, as there have been no reports of accidents or injuries as a result of this concern," Porsche said in the statement. Here's how to find out which car models are up for voluntary safety recall: 
Models affected: The models affected by the Porsche recall recall are the Macan S and the Macan Turbo. In total, 58,881 cars will be recalled. Nearly 22,000 were registered in the United States.
Dealers are expected to contact car buyers whose vehicles were affected for a repair. That procedure should take an hour, according to Porsche. 
Volkswagen has already set aside $7.4 billion to take care of its global pollution scandal, in which the company admitted it had fitted its vehicles with illegal software to skirt emissions tests, Reuters reports. The company saw its first quarterly loss in at least 15 years on Oct. 28 in wake of the scandal.