Adele's "Hello" Becomes the First Single to Sell a Million Downloads in One Week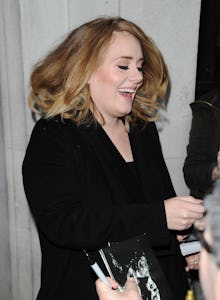 Adele has only been back for a week, but she's making her presence known. Within 24 hours of her surprise comeback video "Hello" hitting the web, Adele broke Taylor Swift's record for most views on Vevo. In its first five days of release, it became the second fastest video to reach 1 million views on YouTube, behind Psy's "Gentlemen." 
Now, after one week on the Internet, it's broken yet another record. According to Billboard, it's officially the first single to sell 1 million downloads in a single week.
Dethroning Taylor Swift, and now Flo Rida: Rapper Flo Rida's "Right Round" held the previous record, moving 636,000 copies in a single week back in 2009, Billboard reported. Adele's "Hello" blew that record out of the water with 1.11 million downloads, capping off an incredibly successful week. It was a week even Adele didn't see coming. 
"I was so frightened that no one cared," Adele told Z100's Elvis Duran in a recent interview. She's been gone a long while in music industry time, over three years, during which time she's been raising her son and collecting experiences for her next record. After a few failed attempts to get her creativity flowing again, as she told Duran, even she began to doubt she would be coming back. 
"For a while, it felt like this moment was never gonna come 'cause I couldn't access myself to write a record," Adele told Vice's i-D in a recent interview. "So I'm super chuffed and really proud of the songs. I'm shitting myself about it all, but it will be exciting." 
Her music clearly has not been forgotten. Hype and sales records aside, Adele's voice still feels as familiar and full-bodied as it did before her silence began. She hasn't changed — and that's part of what "Hello" is all about.
"It's about friends, ex-boyfriends, it's about myself, it's about my family," Adele told i-D. "It's also about my fans as well. I feel like everyone thinks I'm so far away and I'm not. Everyone thinks I live in fucking America, I don't. Sometimes I think people worry about chatting to me, that I've changed. But I like to think I haven't. I don't feel like I have."