In One Joke, President Obama Just Gave the Perfect Smackdown to Republican Debate Whiners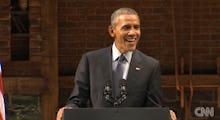 At a fundraiser Monday evening, President Barack Obama ripped into the Republican candidates who seek to replace him. To roars of audience laughter, Obama called out the GOP's presidential hopefuls with a devastating line that brought down the house. 
First came the wind up: 
"Have you noticed that everyone of these candidates say, 'Obama's weak. Putin's kicking sand in his face. When I talk to Putin, he's going to straighten out.'"
Then the pitch: 
"Then it turns out they can't handle a bunch of CNBC moderators at the debate."
And finally, the grand slam: 
"Let me tell you, if you can't handle those guys, then I don't think the Chinese and the Russians are going to be too worried about you."
It burned worse than Ted Cruz's machine gun bacon.  
The Obama smackdown came in the aftermath of last week's GOP debate in Boulder, Colorado. The forum was widely derided by viewers as lacking the substance of previous debates, but the harshest criticism came from the candidates themselves, who at various points dressed down their CNBC interlocutors from the debate stage. Two days after the debate, the Republican National Committee announced that it would suspend future cooperation with NBC, including a future debate with the network planned for Feb. 26, 2016.
In an open letter posted on the GOP's official website, RNC chairman Reince Priebus wrote to NBC News chair Andrew Lack and laid out the party's complaints. "While debates are meant to include tough questions and contrast candidates' visions and policies for the future of America, CNBC's moderators engaged in a series of 'gotcha' questions, petty and mean-spirited in tone, and designed to embarrass our candidates," the letter stated.
The furor comes at an increasingly fraught time for many candidates in the race. Donald Trump's poll numbers are slipping while Ben Carson's star is rising, though few expect Carson to sit atop the polls for long. Jeb Bush, once the presumptive front-runner, has cut salaries and shed staff in a campaign now widely considered to be on life-support. Meanwhile, his former protege, Marco Rubio, has gained steam, as well as prominent financial backing, from Republican billionaires. 
With the race in more flux than ever before, things are only expected to become more volatile when the Republicans meet again for their next debate Nov. 10 in Milwaukee.