Houston Equal Rights Ordinance 2015: What You Need to Know About Prop 1 for LGBT Rights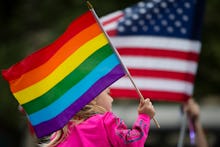 Tuesday is the final day of voting in Houston, Texas, on the Houston Equal Rights Ordinance (HERO), also titled Proposition 1. The proposed legislation protects the equal rights ordinance put in place by the city council in 2014, which focuses on 15 classifications of people, from a person's military status to their gender identity and sexuality, according to the New York Times. 
While the ordinance is supported by a number of powerful local authorities, including Houston Mayor Annise Parker, who has lead support of the bill, a conservative media campaign is attacking Proposition 1's inclusion of sexual orientation and gender identity.
A mid-October poll conducted by SurveyUSA suggested a majority of voters supported the ordinance remaining in effect, with 45% indicating they will vote in favor of the proposition, 36% indicating they will vote to repeal and 20% saying they were undecided.
The controversy surrounding the bill prompted a New York Times op-ed entitled "Support Houston's Equal Right's Ordinance," and a column by Carlos Maza published in the Huffington Post, which called on Houston-native Beyoncé to come out in support of HERO. Maza created the hashtag #BeyBeAHERO when the controversy surrounding the ordinance reached a fever pitch.
So far, the singer has yet to speak out on the issue affecting her hometown, which she periodically represents in her clothing and lyrics. "The vote on HERO is going to be extremely close, and young voter turnout will likely be a deciding factor," Maza told Mic. "I've been involved in the HERO fight since last year, and I really can't imagine what it will feel like to lose after all the effort that's gone into it ... If we lose this because young people didn't turn out to vote, I'll be really, really devastated."
Polling locations are open on Tuesday for the final day of voting on Proposition 1 from 7 a.m. to 7 p.m. Central. Residents can find their voting location through this online ballot search.