2015 Presidential Poll Results: Ben Carson Leads Donald Trump Again in Latest NBC Poll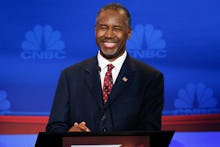 Retired neurosurgeon Ben Carson continues to be a wet blanket on the campaign of fellow Republican presidential candidate and onetime front-runner Donald Trump, according to the latest national poll.
A survey released Monday, conducted by NBC and the Wall Street Journal, shows Carson polling at 29% among Republican voters — the highest any candidate has polled so far in the primary election — while Trump trails with 23%. Florida Sen. Marco Rubio polled at 11%, Texas Sen. Ted Cruz at 10% and former Florida Gov. Jeb Bush at 8%. 
This is a boost from last week's CBS/New York Times survey, which had Carson leading with 26% and Trump at 22%. 
In a subtle jab at Carson on the same day the CBS/New York Times poll was released, Trump retweeted a supporter's comment about Carson taking a break from his campaign for a book tour.
The NBC/Wall Street Journal poll was orchestrated from Oct. 25 through Oct. 29, so voters were polled both before and after the third Republican debate on Oct. 28, which many called a Rubio victory. 
Trump maintains his edge in key primary state New Hampshire, according to a poll released Monday by Monmouth University, CNN reports. Trump leads with 26% followed by Carson at 16% and Rubio at 13%, which is a major jump from his 4% share in Monmouth's September poll.