Matt Bevin 2016: Here's What You Need to Know About Kentucky's Governor Candidate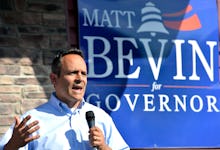 Matt Bevin is running in a close race for Kentucky's next governor. The conservative military vet and father of nine is pro-life, pro-family and pro-Second Amendment. He shares the ticket with tea party activist Jenean Hampton, who is running for lieutenant governor of Kentucky alongside Bevin. If elected, Bevin would upend a long-running history of liberal Kentucky governors, as Democrats have held the seat for 40 of the last 44 years, the New York Times reported.
For the appointment of governor, Bevin will compete with Democratic candidate and ex-deputy state Cabinet Secretary Jack Conway, independent candidate and businessman Drew Curtis and independent candidate and social worker Gatewood Galbraith. The elected candidate will replace Democratic Gov. Steve Beshear.
In one of his campaign ads, Bevin describes himself as a "real deal conservative." His platform includes a plan to cut taxes, repeal common core, and "protect" Kentucky voters from President Barack Obama's "war on Kentucky."
Bevin has earned endorsements from big-time conservative organizations such as the Kentucky Right to Life, the National Rifle Association and the National Federation of Independent Business. 
On the issues, the candidate wants to shrink the size of government by tasking one of his senior staffers to improve government efficiency through waste reduction and to pair down the governor's admin staff by 20%. On health care, Bevin would work to disband KYNECT, or the Kentucky Health Benefit Exchange, which is the state's health insurance policy marketplace. 
Bevin has also promised to fight "the EPA's war on the energy sector in Kentucky."