This Indian Sikh Model Is the Face of New, Improved Abercrombie & Fitch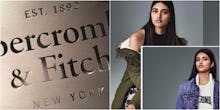 Meet Neelam Gill. 
Gill is a 20-year-old model of Sikh Indian descent and hails from the United Kingdom. Her first major break in the modeling industry came two years ago, when she became the first Indian model cast by iconic British label Burberry.
On Tuesday, Gill added another iconic label to her resume: Abercrombie & Fitch. Gill stars as the face of a reinvented and decidedly less sexy Abercrombie, Women's Wear Daily reports. 
"With the evolution of the brand, we wanted to try something new," Craig Brommers, senior vice president of marketing at Abercrombie, told Women's Wear Daily.
That includes a less lustful, nearly nude aesthetic — and a more inclusive one.
The A&F makeover: Abercrombie & Fitch has long been known for its sexified brand, with plenty of shirtless men with rock-hard abs in ad campaigns and plastered on store walls and billboards. 
For a generation, it was undoubtedly the "cool kids" brand, an image the company's former CEO, Mike Jeffries, embraced, though not without some backlash. Abercrombie was slammed for overly sexy ads, for not offering large sizes and being decidedly exclusionary, not only of "uncool kids" but also those who were ethnically and racially diverse.
After a series of quarterly losses, Jeffries left the company in December 2014. Abercrombie has since been trying to rebrand itself for a new generation, in part because of a trend shift away from preppy clothing and logos, but also because of a cultural shift toward inclusion, diversity and body positivity
Abercrombie, for its part, has also been taking steps to make diversity a key component in stores, hiring and advertising. In October, Jeanetta Darno joined the company as vice president of diversity and inclusion to further its efforts.
It's also resulted in a much more diverse array of models, including Gill. 
"With regards to the choice around Neelam Gill as the model, diversity and inclusion is very important to us as a brand," a representative for Abercrombie told Mic. "We chose Neelam based on her personality and attitude, which we felt were perfect for this shoot."
"Diversity and inclusion is very important to us as a brand."
Time will tell if the new A&F will resonate with shoppers. In casting Gill, the company's taken at least one big step in including models of color (which is more than a lot of fashion brands can say). In Gill, they also have a vocal advocate for diversity and inclusion. On her YouTube channel and in interviews, Gill isn't afraid to talk about racism, bullying and exclusion.
"The industry is improving — but there is a long way to go," she told the London Evening Standard Magazine. "There needs to be a major change in model casting. A lot of shows cast nonwhite models as a token thing. I have never seen a show with more than one black, Asian or Indian girl, which is frustrating."
Now Abercrombie can't quite be lumped into that bunch. For her part, Gill seems happy to just have landed the modeling gig after having worked for the company's other store, Hollister, during her teens. 
"I'd be on the shop floor gazing at the campaigns dreaming that it would be me someday," she told Elle UK. "So when I got to model for Abercrombie & Fitch in New York City, it was quite surreal and humbling."
h/t Elle UK