Facebook Is Finally Relaxing Its Hated Real-Name Policy With Two Big Changes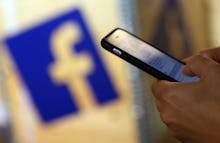 Facebook's "real-name" policy — the one that requires users to users to go by their actual, "authentic" identities — has long been criticized by drag performers, members of the Native American community, victims of domestic abuse and LGBT individuals. 
The rule, they argue, is problematic for a few reasons: It has been used as a tool for harassment; it can represent a threat to the safety of activists and members of often marginalized groups; it trivializes personal privacy; and it curtails freedom of identity by forcing users to go by a name they may not actually use or identify with.
Facebook took note of the outcry and crept closer to adjusting the policy, but as drag performer Lil Miss Hot Mess wrote for the Huffington Post in October, it still wasn't enough. Now Facebook is trying again — and this time, they've actually put forth plans for some tangible changes. 
In a letter dated Oct. 30, Alex Schultz, Facebook's vice president of growth, declared that the social network had spearheaded two major shifts in its real-name policy. 
The first will allow those directly affected by the rule to "provide more information about their circumstances" so that the company can effectively understand and handle the situation. (Previously, this wasn't an option.) The second deals with those reporting "fake" names, and will require that they provide more detail when they flag a profile. Ideally, adding an extra step to the process will deter abusers from using the platform as a tool for harassment.
"We know the current process does not work for everyone," Schultz writes in the letter, itself a response to an open letter from the Electronic Frontier Foundation, Human Rights Watch, the American Civil Liberties Union and others calling for a shift in the policy. "These improvements will take some time to test and implement, but a team is working on this and people should start seeing the tests in December.
"We are deeply invested in making this better," he adds.
The concrete plans represent a shift in Facebook's response from this time last year, when it released an apology  for the difficulties prompted by the rule and nebulously claimed it would "fix the way this policy gets handled." 
Despite the strides, it's important to note that Facebook's updates are only a start, and they don't address all of the problems involved in the "real name" rule. 
"We are deeply invested in making this better."
Some, like the acceptable forms of identity verification, are still up in the air: Rather than government-issued ID, users can provide magazine subscription labels, bills and library cards, among other items. As BuzzFeed's Alex Kantrowitz has pointed out, however, many users, including individuals who are transitioning or those who want to shield their real identities, can't come up with such documentation. 
As the Guardian's Alex Hern noted, Facebook still doesn't "allow people who are known by a different name online and off- to provide evidence supporting their online persona on Facebook." When the EFF asked that Facebook allow "links to blog posts or other online platforms where they use the same identity," Schultz responded simply, "We're continuing to explore more options for people to be able to confirm their identity."
Moreover, the first part of Facebook's proposed change — allowing those forced to verify their identity to give more context — still places the onus on the target. The second part, while positive in the sense that it puts some responsibility on the reporter, essentially assumes that a few extra steps will deter an abuser from making a false claim. While this may be true for random attacks, for people who know their harasser, an extra step or two may not make a difference.  
Regardless of any efforts to improve it, the continued existence of the "real name" policy still poses problems. The very idea of it — that people can't go by the names that make them feel most like themselves, or most comfortable — runs counter to Facebook's efforts to make the platform an inclusive and authentic space. 
"What Facebook doesn't acknowledge is that 'real life' is complicated: Identities often can't be described via a checkbox or on a driver's license," wrote Lil Miss Hot Mess in October. "Over the past decade, the lines between digital and physical spaces have become increasingly blurred, and for many, social media allows opportunities to express oneself more authentically than in school, at work, with one's family or on the street.
"If Facebook wanted to, this could be over by now."
While the two new changes are a start, it's certainly not enough to shut the book for good.
h/t BuzzFeed