SAE Fraternity's Yale Chapter Accused of "White Girls Only" Party Admission Policy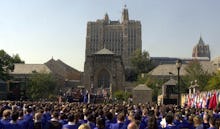 A fraternity house in New Haven, Connecticut, is being investigated after an alleged sexist and racially-charged incident last week.
According to multiple reports and at least one Facebook thread, a member of the Yale University chapter of Sigma Alpha Epsilon turned away a group of women from a Halloween party Oct. 30 because they were not white.
"No, we're only looking for white girls," the member told a group of mostly black and brown women, according to Sofia Petros-Gouin, a freshman visiting from Columbia University who witnessed the exchange. "White girls only," he added, repeatedly, as he let multiple blonde women enter the party and kept everyone else waiting on the crowded steps of the house.
The alleged incident occurred between 10:30 and 11:00pm on Friday. "No other brothers censored him or anything," Petros-Gouin told Mic on Tuesday. She said the member in question was white. "No one seemed particularly outraged. I was shocked."
According to other students, this incident was part of a pattern. "Shoutout to the member of Yale's SAE chapter who turned away a group of girls from their party last night, explaining that admittance was on a 'white girls only' basis," Neema Githere, another Yale student who was not at the party, wrote in a Facebook post the next day, "and a belated shoutout to the SAE member who turned me and my friends away for the same reason last year. God Bless the USA."
Githere's Facebook post has received multiple responses in the comments section from young women of color who allege similar experiences with the Yale SAE chapter. "Reminds me of the time they asked me and a group of other Latino, predominantly Mexican, friends for our passports when we tried to go to their shitty party a little over a year ago," one commenter wrote.
Both the local and national chapters of the fraternity have "categorically denied" these accusations, according to the Yale Daily News. 
"Based on preliminary information we have received, law-enforcement officers received a noise complaint and visited the house where members held a social event over the weekend, asking the men to stop admitting guests and to clear the steps and sidewalk," the chapter's national headquarters said in a statement. "The brothers complied with the direction given to them and halted any additional attendance by guests in order to avoid a citation."
One Sigma Alpha Epsilon member, speaking on condition of anonymity, told the Washington Post nobody without a Yale student ID was denied entry to the Halloween party before 11:15 p.m. He also said the fraternity member working the door at the time was black, and that one of the women denied entry was seen yelling at him and accusing him of barring her because she too, is black, the Washington Post reported.
Sigma Alpha Epsilon's national headquarters did not respond to Mic's request for comment.
This is not Sigma Alpha Epsilon's first brush with racism allegations. In March, video surfaced showing members of the University of Oklahoma chapter singing a chant that included the lyrics: "You can hang him from a tree, but he'll never sign with me — there will never be a nigger in SAE." The chapter was closed indefinitely, and two of its members were expelled. 
The fraternity's national leadership is still investigating the Yale incident.
h/t The Root