A Hijab Fashion Brand Was Mistakenly Targeted by Police — And Their Response Was Beautiful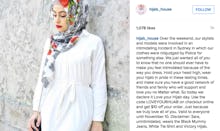 On Sunday, Australian fashion retailer Hijab House was setting up for a photoshoot on the outskirts of Sydney. As they prepped for the shoot, they draped their new summer line of white, mint and pink outfits and headscarves on a fence outside the Victoria Barracks army base in the suburb of Paddington. 
According to the Australian (paywall), that's when local police mistook the garments for "Islamic flag" paraphernalia.
"They made us take the clothes off the fence and took down all our personal details and asked where our car was," Tarik Houchar, the owner of Hijab House, told the Australian. "They said they drove past and saw what looked like flags on the fence. They were (mostly) white garments on coat hangers and pink."
Local police confirmed that they approached the models, stylist and photographer, though no action was taken at the time. When Houchar asked why they were being questioned, the Australian reports the officer said, "You know, things happening overseas."
Houchar described the scene to the Australian: "There was a paddy wagon, a police car and two police officers on motorbikes. I said to them, 'This is intimidating us' and an officer said, 'How is this intimidating?' I said, 'It's a fashion shoot.'" (Mic has reached out to the New South Wales police and Houchar for comment.)
Instead of just getting upset and over it, Houchar headed to Facebook on Tuesday to let the store's 277,000-plus followers know what they can take away from the incident: 
"We just wanted all of you to know that no one should ever have to make you feel intimidated because of the way you dress," the post states. "Hold your head high, wear your hijab in pride in these testing times and make sure you have a good network of friends and family who will support and love you no matter what." 
Hijab House was founded in 2011 and has more than 120,000 followers on Instagram, where the message was also posted. In addition to this powerful message, the store offered a $10 discount on orders using the code LOVEYOURHIJAB. 
"Just because we truly love all of you," the post concludes. 
The store's message speaks to the ongoing struggle among Muslim women across the globe to be accepted in their hijabs without fear of judgment or punishment. That's especially true for stylish young women living otherwise "normal" lives in non-Muslim countries, who may struggle to find their comfort zone with style that feels true to their religion.
"I loved dressing up as a kid, but my love for fashion and style sort of diminished in the first few years of wearing hijab," Ikhlas Hussain, who started the fashion blog The Muslim Girl, told Mic previously. "I started in high school, and I struggled with how to wear hijab and dress in a way that felt good. ... [University was] when I was able to see hijab as being beautiful, and being able to be fashionable as well as modest."
By advocating self-love, the owners of Hijab House have taken a stand against having to hide or shy away from the realities of being a Muslim today, and instead be strong and confident in the face of everyday adversity.