Depending on Who You Ask, This Lady Got the Creepiest or Coolest Engagement Ring Ever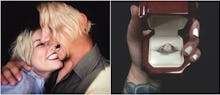 Most girls are taught from an early age that diamonds are a girl's best friend. But Carly Leifkes is clearly not one of those girls. The bride-to-be is going viral for her engagement ring, which features not a diamond or a ruby or any other jewel, but her fiancé's wisdom tooth. 
"So incredibly excited to marry my best friend, the man who knows that his wisdom tooth means more to me than a diamond," Leifkes wrote on Facebook. "Can't wait to be a weirdo with you and dance our way through life to Thee Oh Sees and Black Sabbath. We have never been the 'traditional couple,' why the heck start now?"
Leifkes told BuzzFeed that she met her fiancé, Lucas Unger, at a music festival in Canada, where sparks started flying so fast that Unger ultimately decided to move out of the country to be with her. And lest you think that he randomly just sprung this whole tooth idea on her without warning (which would have been quite the risky maneuver), Leifkes said that they actually discussed the idea ahead of time.
"I'd said that diamonds are so overrated," she told BuzzFeed. "My birthstone is a diamond. I don't need one to prove how much someone loves me. He'd already moved all the way from Canada to do that!"
And so a tooth it was.
"What does a diamond signify in anybody's relationship?" she said in the interview. "I literally have my husband's wisdom on my finger."
Leifkes' and Unger's decision to commemorate their engagement with a tooth ring may have been a rare one, but they are certainly not the first couple to swap a diamond for something with a little more personality. Last year, Vogue shared the stories of a few women who had opted out of the diamond trend in favor of other gems, or even just plain bands.
Meanwhile, Pinterest is positively teeming with nontraditional engagement ring ideas for the forward-thinking bride.
Still, this California couple's choice is in a league of its own in terms of creativity and quirkiness (and creepiness, if you find the idea of flashing your boyfriend's molar on your finger somewhat less than toothsome). So the next time you find yourself on the receiving end of a proposal, you might want to borrow some wise words from Lady Gaga and reply by simply saying, "Show me your teeth!"
h/t BuzzFeed