Donald Trump Says Jeb Bush Should "Absolutely" Drop Out of the Presidential Race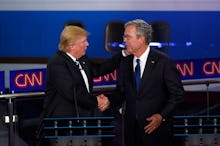 Businessman and one-time top-polling Republican candidate Donald Trump said his opponent former Florida Gov. Jeb Bush should drop out of the race because he "doesn't have a chance" in an interview with Good Morning America on Tuesday.
"Jeb's a nice guy," Trump told ABC News' George Stephanopoulos on Good Morning America. However, "He's a stiff, OK? ... He doesn't have a chance. He ought to do what Walker did," referring to Wisconsin Gov. Scott Walker's decision to drop out of the presidential race in September.
When asked if Bush should drop out, Trump said "absolutely."
Trump echoed his opinion in a tweet on Tuesday, implying that the billionaire Koch brothers need another "puppet" to invest in after Bush fails at his campaign.
"[Bush] has no chance," Trump told Good Morning America. "He's got money but the money's not going to do it. And he's been branded as a 'low-energy' person," referring to his own previous social media attack of Bush in which he called Bush "low-energy." "I don't know who branded him," he said sarcastically. "I can't imagine." 
Bush shot a more aggressive insult at Trump during a Florida campaign rally on Monday, saying the boastful business tycoon is all talk. "The solution won't be found in someone who has never demonstrated the capacity to implement conservative ideas," he said to an audience of 400, CNN reports. "And you can't just tell Congress ... 'You're Fired' ... and go to a commercial break."
Though both his brother and father have served as president, Bush has struggled to gain support for his presidential run. Time political reporters Zeke Miller and Alex Altman wrote on Oct. 27 that Bush already seems "defeatist" as his poll numbers plummeted.