Houston Fails to Pass Prop 1 Houston Equal Rights Ordinance, or HERO, for LGBT Equality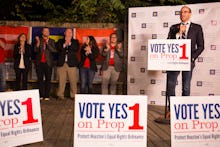 Early voting numbers showed that Houston failed to pass Proposition 1, also known as the Houston Equal Rights Ordinance, or HERO, on Tuesday, the Houston Chronicle reports. Prop 1 would have prohibited discrimination in everything from employment to housing based on, among other things, someone's sexual orientation or gender identity, two classes of people not currently protected under federal anti-discrimination laws.
"We are disappointed with today's outcome, but our work to secure nondiscrimination protections for all hard-working Houstonians will continue," the ordinance's supporters said in a statement, according to the Houston Chronicle. "No one should have to live with the specter of discrimination hanging over them. Everyone should have the freedom to work hard, earn a decent living and provide for themselves and their families."
The law would have banned discrimination based on 15 classes of people including marital status, religion, sexual orientation and gender identity "in city employment, city services, city contracting practices, housing, public accommodations and private employment." 
Had HERO passed, it would have been seen as a major victory for the city's LGBT residents. "In a city this diverse, with 90 languages spoken and all the varied cultural and racial and religious influences, you have to have a city where people respect each other and find mechanisms to communicate and get along with each other," Mayor Annise Parker told the Washington Post. Under Prop 1, Houston would have joined over 200 municipalities across the United States that have laws protecting LGBT people, in addition to the 19 states and the District of Columbia that have state-wide anti-discrimination laws based on sexual orientation and gender identity. 
However, the legislation faced an ugly, conservative media-backed campaign aimed at convincing residents the bill was actually a measure that would make it easier for sexual predators to attack women in public bathrooms. Many local figures stood in support of the ordinance. A number of national publications, including the New York Times, called on voters to support the bill, however HERO did not receive a majority of support among Houston residents. 
Proponents of HERO said arguments that the ordinance would have led to sexual assault in public bathrooms were completely misguided. "We don't know of a single documented instance in which a person committing sexual assault or harassment in a restroom was transgender or pretending to be transgender," executive director of the LGBT advocacy group Freedom for All Americans Matt McTighe told MSNBC. Other anti-discrimination laws, he said, "have been put into place successfully, with no increase in public safety incidents. This ordinance doesn't change the fact that it's already illegal to assault someone in a restroom or anywhere else."