Sarah Outen Around the World in 25,000 Miles: Photos of Adventurer's London Finish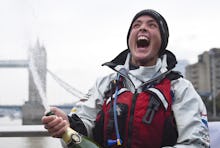 On Tuesday, 30-year-old British athlete Sarah Outen arrived at the Tower Bridge in London in her kayak, four years and 216 days after setting out from that same point to complete a full loop around the globe, the BBC reports.
Dubbed "London2London: Via the World," Outen's global adventure involved 25,000 miles of biking through Europe and Asia and rowing through the North Pacific and North Atlantic Ocean in the west-to-east direction.
Outen's expedition, through which she raised money for breast cancer awareness, motor neuron disease and clean water, doesn't technically qualify as a full global circumnavigation as defined by the Guinness Book of World Records (she did not reach opposite parts of the globe), but it's still an accomplishment she can add to her growing list. During the trip she became the first woman to row solo across the entire North Pacific Ocean, the Huffington Post reports.
Rough weather delayed Outen's return by two years, as she originally planned to complete her mission by 2013, the Telegraph reports. In one particularly dangerous incident during 2012, Outen was rescued from a typhoon off the coast of Japan while navigating the North Pacific, losing her first kayak, according to the Telegraph. Outen shook it off, reset and set out on the North Pacific Ocean again in 2013.
Outen returned to her fiancee, Lucy Allen, to whom she proposed via satellite phone while at sea in August 2013, the BBC reports. The two reunited on Tuesday upon Outen's return home.
View a library of high-resolution photos documenting Outen's journey around the world on her Flickr account.