Mississippi Man Wants Confederate Flag Sold at Wal-Mart, Bombs Store to Make His Point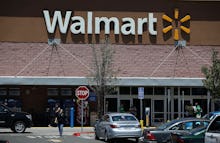 A man was arrested for allegedly throwing a bomb at a 24-hour Wal-Mart store in Mississippi over the weekend. 
The Sunday morning explosion did not cause any damage, but was loud enough to make the assailant's point: There aren't enough Confederate battle flags sold at Wal-Mart stores anymore.
Marshall E. Leonard of Tupelo is known for driving around in a silver Mazda decked out with Mississippi state flag and Confederate battle flag stickers, according to Capt. Jerry Davis of the Tupelo Police Department. Around 1:30 a.m. on Sunday, he allegedly drove past the Wal-Mart location at 3929 North Gloster Street, told one terrified employee to "run" and threw a newspaper-wrapped explosive into the front entrance. 
He was arrested 30 minutes later for running a red light nearby.
Capt. Davis told Mic that Leonard confessed to bombing the store to protest that Wal-Mart had stopped selling products displaying the Confederate flag. "He's an active protester who thinks Wal-Mart is leading the charge to remove the flag," Davis told Mic. "He also has a very recognizable vehicle."
Leonard is charged with  "bomb, explosive or weapon of mass destruction: planting or placement," Capt. Davis said. But his story speaks to a broader debate going on across the country. Several states have removed the Confederate battle flag from official paraphernalia and places of prominence on statehouse grounds, mostly in response to the June 17 massacre of nine black parishioners by a white supremacist gunman at a church in Charleston, South Carolina.
South Carolina and Alabama are among these states. Mississippi is not. The debate was re-energized in October when students at the University of Mississippi voted to have the state flag, which contains the Confederate symbol, removed from a prominent place on campus.
The Confederate flag was originally designed as an endorsement of slavery and secession during the U.S. Civil War. Wal-Mart stopped selling Confederate flag merchandise in June. A Wal-Mart representative declined to comment on this story.
UPDATE: This story was updated to include a statement from Capt. Jerry Davis of the Tupelo Police Department.