One Modeling Agency Is Redefining What We Think About Age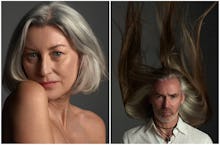 For more than 15 years, Rebecca Valentine spent her days staring young men and women up and down, gauging their looks and charisma in order to book them for modeling jobs — commercials, photo shoots, ad campaigns, the works. 
Five years ago, Valentine's mind wandered to a possibly new, refreshingly mature set of personalities, and that's when she started to notice an untapped market for talent.
"As a photographic agent, I ran an extras agency primarily as a resource for my photographers so we had a bank of 'ordinary people' on a database," Valentine told Mic. "During this time I noticed that the older models were booked more frequently than anyone else, which I supposed was due to supply and demand."
That demand for older models was part of a developing trend, Valentine said. By early 2015, shoppers had begun to make "stronger demands for true representation and the use of models who looked like them."
So, in June, after she researched and "realized there were no model agencies specializing in mature male and female models across fashion, advertising and editorial," she launched Grey Model Agency, which specializes in models 35 and older.
A hunger for faces of all ages: Think about the recent campaigns that have rocked the Internet: Joan Didion for Céline. Cher for Marc Jacobs. Joni Mitchell for Saint Laurent. The models grabbed everyone's attention for how remarkably glamorous these women looked — no less than any Jenner or Hadid — but also because it's simply so rare to see women above age 50 in fashion spreads today.
The progress has been slow, and been lead mostly by already-famous faces who've proven their popularity, making it less of a risky choice. Two more include 65-year-old Jessica Lange, who lent her face to Marc Jacobs Beauty in 2014, and 71-year-old Catherine Deneuve who snagged Louis Vuitton in 2013. But we've even seen a few noteworthy examples from "regular" models, like Jacky O'Shaughnessy, who posed for American Apparel in 2014 at age 62.
The enthusiastic responses to these ads point to the apparent hunger among consumers for more realistic representation. In the same way that plus-size models have started popping up on more runways and ad campaigns, older male and female models are starting to do the same. 
This September, during New York Fashion Week, earthy designer Rachel Comey debuted her spring collection on models of various ages, disrupting the "young chicks only" norm in favor of a more diverse runway. 
Unsurprisingly, responses were glowing. "It's a clever move for a designer who challenges women to dress outside of the traditional skinny and flattering box," noted the editors at Refinery29, writing, "She presented a real-time retort to the common Fashion Week question: 'But what would that look like on someone who's not a model?'"
Which is another major reason older models are flourishing: Models, after all, are there to show us what clothing really looks like. And there are a lot of older shoppers out there buying clothes.
Reflecting the women who actually buy clothes: In early October, plus-size brand Anna Scholz debuted an ad campaign starring Grey model Nicola Griffin, who turned 56 in October and is a size 16. The tagline for Griffin's campaign was "My favorite age is now." 
It's a positive reinforcer for all ages, but, as Bustle noted, "arguably rings even more true for women who are repeatedly told that their 'best' years are behind them."
"This age group has been completely overlooked by the industry — not just fashion and beauty, but more so in advertising," Valentine said in an interview with Anna Scholz on her personal website. "The older generations of women are represented either as blue-rinse old ladies or completely eccentric characters."
That's a poor reflection of shoppers. The move to include older models, for Valentine, is sensible because the market itself has matured. Recent studies have shown that women over 50 are the largest consumers and buyers of makeup. They also spend more on fashion while the amount paid by younger generations is dwindling. 
"It's lovely seeing beautiful young 20-somethings modeling everything, but it's even more interesting to see people your own age modeling clothes/beauty products," Griffin said. 
So far, it's a hit: Which is why the models of Grey, which Valentine says has been inundated with applicants, are getting work. Models Helen and Annabel walked in London Fashion Week. 
According to Valentine, Grey's Alex Bruni is working in Indonesia during Jakarta Fashion Week, where she's hoping to change "the taboo of age in fashion as all eyes turn to London and the U.K. as leading the way in embracing gray." 
Meanwhile, Grey's oldest model, 82-year-old Frances Dunscombe, will be featured in an ITV documentary about her unlikely rise as in the fashion industry, and also appeared at London Fashion Week, where she wore a young Chinese designers collection and, according to Valentine, adorned "the covers of many Chinese newspapers and magazines as the model of the day."   
Looking into the future, Valentine only expects more competition. "It would be great for all brands used models who were representative of the market to whom they are pitching and for these brands to recognize that 'older' is not a description of type," Valentine said.
As Griffin told Mic, "We want a variety of people selling things. ... We don't want one age group constantly promoting fashion and beauty goods. We want all ages to be represented. The gray revolution has begun!"
For young people still staring down their gray-haired years, that's worth cheering for too. As we reach for the anti-aging creams and Botox under the age of 30, any efforts to shift the perceptions of old age can't come soon enough.