Diddy Releases "MMM" Video. New Puff Daddy Album Could Be Coming Soon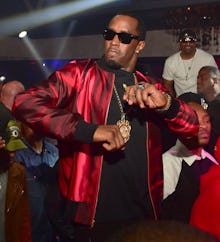 Diddy  uploaded a video titled "MMM: Chapter 2" to his Facebook page Monday, giving fans a taste of possible things to come. The artist, who's also gone by the names Puff Daddy and P. Diddy but who's official Facebook page is now just Diddy, has been teasing fans awaiting his upcoming album, captioned the video, "You have to be believe that you're going to be as great as you can be!! Watch #MMM ?Chapter one NOW! #PuffDaddyAndTheFamily."
The video doesn't reveal any new music from Diddy, nor does it hint at ay upcoming releases. However, the title of the video may indicate the rapper has chosen to title his upcoming album MMM definitively. Previously, reports indicated Diddy may have been leaning toward naming his latest album No Way Out 2, a follow up to the rapper's 1997 album, Radio reports.
Rumors about Diddy's latest music project have been swirling for months. The 45-year-old hip-hop artist dropped a surprise new single during his BET Awards performance Oct. 13. However, neither Diddy nor his music label Epic Records, who signed the artist into a two-album contract, have announced the official release date for his upcoming release possibly titled MMM, Complex reports.