Kendall Jenner Birthday Party 2015: Photos, Celebrity Instagrams, Guest List and More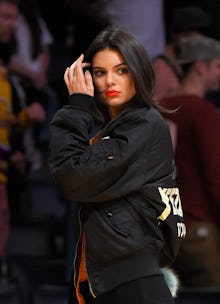 Supermodel and reality TV star Kendall Jenner entered her roaring 20s during what was hardly a modest birthday celebration on Monday night. In attendance were her sisters Kim Kardashian and Kylie Jenner, Kanye West and some of her A-list pals, including rapper Drake and supermodel Gigi Hadid. 
The birthday bash took place at The Nice Guy Club in Los Angeles, Harper's Bazaar reports, where Jenner arrived donning a revealing bodysuit, bold, red lips and a perfectly-messy top bun — a look that makes it difficult to believe the reality TV star just exited her teen years. 
Most importantly for people not on Jenner's guest list, the party featured a photo booth — giving social media users the opportunity to swoon over the guests' flawless faces on Instagram on Tuesday and daydream about the overused hashtag #SquadGoals.
Rapper Drake kicked it with supermodel-slash-actress Ruby Rose, her partner Phoebe Dahl and model Hailey Baldwin.
Here's Kardashian and West sharing a photo booth moment. 
Smooches for Drake.
Here's 19-year-old DJ Martin Garrix in the bottom right corner. 
On Tuesday, in the wake of her birthday extravaganza, news broke that Jenner had booked a spot on the runway at the 2015 Victoria's Secret Fashion Show in December, an internationally-televised lingerie show and a dream gig for many runway models.