Amber Rose Said She's A "Former Slut-Shamer And a Newfound Feminist"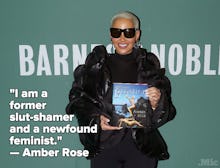 Getty Images
When it comes to dropping delightfully DGAF truth bombs, Amber Rose is simply in a league of her own.
The SlutWalk organizer and author of How to Be a Bad Bitch recently did an interview with the Guardian that amply demonstrates this skill. In the interview, she reveals that she wasn't always the outspoken feminist she is today. In fact, like many a Mean Girl before, there was a time when she had bought into society's misogynistic tendencies to shame and judge women.
"I used to call women sluts and whores all the time," she told the Guardian's Rose Hackman. "Because that's what society taught me: that that was OK and that it was what I was supposed to be doing. But I grew up, and I have seen these issues, and I have become very passionate about it. I am a former slut-shamer and a newfound feminist."
Later on in the interview, Rose detailed her complicated history with the S word and how it has been used against her throughout her entire life. Being called a "slut," she said, was the impetus for her Los Angeles SlutWalk last month, which drew in a crowd of hundreds.
"I've been called a slut while I was still a virgin," she told the Guardian. "I have been called a slut while I was in a committed relationship with my husband. So it really doesn't matter what you do in life, people can call you that name because they are uncomfortable with your sexuality. That's all it is."
Yet even after coming out as an anti-slut-shaming advocate and author, Rose continues to be labeled as a "slut" — not only by Insta trolls who write that she "only fucks rappers," but by the media as well. Recently, a GQ profile of Rose reduced her to the labels of "Kanye's infamous ex" and "Wiz Khalifa's baby mama," prompting her to call the magazine out on Instagram. 
But maybe there's hope for the future, as Rose herself confessing to being a "former slut-shamer" suggests that perhaps anyone can reform their ways and come out on the other side as a fierce advocate for women.
And also a bad bitch, of course.
h/t The Guardian