Leah Remini Scientology Book Summary and Most Eye-Opening Accusations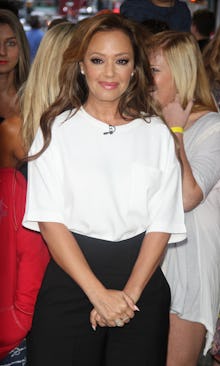 Actress and ex-Scientologist Leah Remini released a highly anticipated memoir on Tuesday detailing her experience in Hollywood as a member of the Church of Scientology, which claims to have millions of members, including celebrities Tom Cruise and John Travolta, and which many consider a cult. Remini's book, Troublemaker: Surviving Hollywood and Scientology, is a rare glimpse into the secretive and controversial world of Scientology. 
The controversy surrounding Scientology peaked with the 2015 release of the documentary Going Clear: Scientology and the Prison of Belief, which details the sometimes brutal treatment and often bizarre behavior of the cult's members. Remini supports those claims in her firsthand anecdotes of her time as a Scientologist. 
Her accounts range from Cruise allegedly losing it over pre-made cookie dough to Cruise's ex-wife Katie Holmes reportedly accusing Remini of stealing all the attention at her wedding. Remini left Scientology in 2013 after 30 years, saying, "No one is going to tell me how I need to think, no one is going to tell me who I can and cannot talk to," Business Insider reported. 
Here are several of the book's most staggering excerpts, according to E! News and Jezebel:
Nicole Kidman helped Remini survive after Scientology:
During this confusing early period, I sometimes felt adrift, but I had one figure I kept front and center in my mind to keep from going crazy: Nicole Kidman.
Katie Holmes told on Remini after her wedding for being a bad Scientologist:
Jasmine, the MAA [master at arms] conducting the interrogation, showed me the Knowledge Report written by Katie Holmes, in which she referred to my behavior during the wedding weekend as "very upsetting" and accused me of disrupting the party, which she claimed was a "poor example to others." She went on to say, "[She] made the party all about her," and concluded the report with reference to the fact that all of this so-called bad behavior "disturbed me greatly." Jasmine told me I was a bad example for Scientologists and then asked me, "What do you say about this report?"
Tom Cruise played hide-and-seek during his adult dinner party:
As the dinners continued and we spent more time with Tom, I came to think of him as a big kid with his loud laugh, high energy and goofy ideas of fun. Like when he invited some Scientologists and a few other celebrities like Will Smith's wife, Jada Pinkett Smith, to his house and announced he wanted to play hide-and-seek. At first I thought he was joking, but no, he literally wanted to play hide-and-seek with a bunch of grown-ups in what was probably close to a 7,000-square-foot house on almost three full acres of secluded land.
Suri Cruise was neglected at her parents' wedding:
"After about five minutes, I headed to the bathroom to offer some help. When I opened the door, I found three women, including Tom's sister and his assistant, standing over the baby, who was lying on the tile floor. I didn't know if they were changing her diaper or what, but the three women were looking at her like they thought she was L. Ron Hubbard incarnate. Rather than talking to her in a soothing voice, they kept saying, 'Suri! Suri!' in a tone that sounded like they were telling an adult to get her shit together." 
Cruise had a meltdown over cookies:
Once when Angelo and I were over, Tom decided he wanted to make cookies. He walked into the kitchen, where a batch of prepackaged cookie dough had been prepared and was sitting on the counter, a perfect loaf ready for cutting and baking. Tom was looking for flour and other ingredients and must not have seen the cookie dough, and he instantly got angry.