Robin Williams' Widow Says Lewy Body Dementia Was Cause Of Actor's Death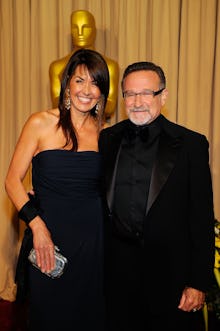 Robin Williams' widow, Susan Williams, revealed details about the Lewy body dementia crippling the actor a year after his death in an ABC interview published Tuesday. Williams shared in the exclusive interview that dementia is what ultimately led to her husband's suicide, despite many outlets originally reporting the actor took his life after quietly suffering from depression for a number of years. 
"Lewy body dementia is what killed Robin," Williams told ABC. "It's what took his life and that's what I spent the last year trying to get to the bottom of, what took my husband's life."
Williams, the beloved actor who starred in countless classic films including Mrs. Doubtfire and Good Will Hunting, died on Aug. 11, 2014, in an apparent suicide. According to his wife's recent interview, the film star was supposed to be receiving further brain testing the week of his death. "I think he was just saying no, and I don't blame him one bit," Williams told ABC.
"My best friend was sinking," Williams continued in the interview, recounting painful memories of when her husband's dementia began affecting his behavior. Williams revealed the two had been trying to conclude what illness the 63-year-old might have had for years, as her husband began showing symptoms of dementia as early as 2013. Williams told ABC, "In November of 2013, he had a little gut pain. Next month, it was another symptom. It was like this endless parade of symptoms, and not all of them would raise their head at once. It was like playing whack-a-mole — which symptom is it this month? I thought, is my husband a hypochondriac?"
Watch a video of ABC's Amy Robach's interview with Williams here.