2015 Has Been a Banner Year for Movies Written by Women — Both Successes and Failures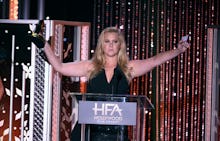 Amy Schumer opened her Saturday Night Live monologue this October with a question she's been fielding all year, "Amy, is it an exciting time for women in Hollywood?" The punchline was the type of truth-bomb the stand-up comedian is known for, "And I'm like, no!" 
Yet most may look at her movie Trainwreck, which she wrote and has thus far grossed over $110 million, as a prime example of the changing perception that female-written films can find an audience. Rather than mark 2015 as a banner year that has produced an inordinate number of critically praised films written by female screenwriters, let us revel instead in the fact that films written by women have cornered all aspects of the industry this year. 
There have been outright hits and unconscionable misses, arthouse smashes and forgettable flicks. Isn't the fact that both buzzy films like Straight Outta Compton (Andrea Berloff) and all-out flops like Chappie (Terri Tatchell) were co-written by women a better gauge of the leap female screenwriters have made these past few years?
Just as we shouldn't hold up films like Bridesmaids and Trainwreck as ushering and exemplifying "an exciting time for women in Hollywood," we shouldn't restrict conversations about gender diversity in front of and behind the scenes solely to successful examples. It perpetuates the troubling and misguided conception that every film written or directed by a woman needs to be a hit. The assumption is that, if it's not a hit, it proves that female screenwriters aren't as viable as their male counterparts.
That every film written or directed by a woman needs to be a hit is a troubling and misguided conception.
The impetus behind lists like "The 20 Best Female Screenwriters Working Today," "Top 100 Films Written Solely By Women" and others like them is the assumption that the more people are acquainted with the strong work of women in film, the less likely they are to argue about the dearth of female screenwriters. Yet the numbers, as recent studies continue to show, remain stacked against women working both in front of and behind the camera.
This type of celebration has been taken for granted. It was born out of necessity. Look at The Piano or Lost in Translation. Who could deny the quality of such films? They stand as the epitome of what great female screenwriters (or in these cases, writer-directors) can accomplish.
Just as easily though, these films also present themselves as examples of why listing the greatest films written by women is problematic. It ghettoizes the very films it tries to celebrate. Jane Campion and Sofia Coppola can and should easily be ranked among the greatest screenwriters of their generations, irrespective of their sex.
So sure, there's plenty to celebrate: Of the the top 25 grossing films at the domestic box office this year, seven were written or co-written by women, including Inside Out, Pitch Perfect 2 and Fifty Shades of Grey. Adding Schumer's comedy vehicle to the list suggests that female-written films can be hits.
Putting box office aside, 2015 has also offered a number of critically acclaimed films written by women like Room, Ricki and the Flash, The Danish Girl and Mistress America. Indeed, Phyllis Nagy (Carol) and Marielle Heller (Diary of a Teenage Girl) have already been nominated by the Gotham Independent Film Awards in the best screenplay category. But citing all those films is an exercise in self-congratulation.
In the true spirit of equality, no celebration of 2015 as a banner year for female screenwriters would be complete without pointing out that, up until the disastrous opening weekend for John Chu's Jem and the Holograms, the Meagan Oppenheimer co-written film We Are Your Friends had the distinguished honor of being the year's worst opening weekend for a wide-release.
Likewise, we should remember that while Strange Magic, that ill-fated George Lucas animated musical version of A Midsummer Night's Dream, may not be Irene Mecchi's greatest accomplishment, she remains a powerful voice in the animation world. She co-wrote both Disney's The Lion King and Pixar's Brave, after all. Similarly, the screenwriter behind Mrs. Doubtfire, Randi Mayem Singer, is still working — even if her upcoming credits include Alvin and the Chipmunks: The Road Chip.
True equality should mean that gender diversity in film can and should include all-out hits and unfortunate misses, unlikely successes and admirable failures. The burden of quality and success already hangs over every person in the film industry. There's no need to amplify it for every new female-written and female-driven script. Expectation knows no gender.