Google Smart Reply Types Email Responses Based On Context For Inbox by Gmail Users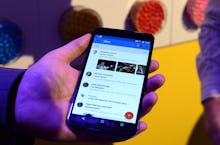 Google is trying to keep emails — which seem to be going out of style as quickly as the ancient art of writing letters by pen — relevant with its newest update to Inbox by Gmail, rolling out on Google Play and the App Store later this week, according to a Gmail blog post published Tuesday. The email service is releasing a new feature that will provide short responses to incoming messages based on their context, improving response speed and saving users the trouble of typing out lengthy emails while on the go. 
"Smart Reply suggests up to three responses based on the emails you get," software engineer Bálint Miklós wrote. "For those emails that only need a quick response, it can take care of the thinking and save precious time spent typing. And for those emails that require a bit more thought, it gives you a jump start so you can respond right away."
Google says its new Smart Reply feature works by incorporating "machine learning" when opening new emails in order to process the incoming text and understand what it means to the reader. Then, Smart Reply shells out three one-sentence replies that typically provide the beginning to a longer response, or a simple, succinct answer to a question or topic presented in the message. 
In a GIF the service created for its blog post and tweeted Tuesday afternoon, an email reads, "Hi Peter, do you have any documentation for how to use the new software?" The Smart Reply feature shows three options above the touch screen keyboard, including "I don't, sorry," "I will have to look for it," and "I'm working on them." A user can then click on any of the provided responses and send their email, incorporate one or multiple Smart Reply responses in a lengthier email, or ignore the feature's suggestions and type their own email as they normally would.
Check out Google's research blog to learn more about how Smart Reply works.