California Marijuana Legalization 2016: Update on Voting for Adult Use of Marijuana Act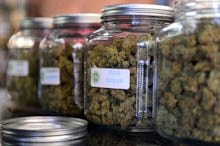 Billionaire tech entrepreneur Sean Parker filed a ballot initiative in California on Monday that could legalize the recreational marijuana next year, Fox40 reports. The legislation, titled the Control, Regulate and Tax Adult Use of Marijuana Act, outlines exactly what the state of California would look like with recreational marijuana on the books.
The initiative includes provisions which prohibit driving while under the influence of marijuana and packaging restrictions to protect minors from consuming marijuana accidentally. "[The act] breaks new ground not just with its pragmatic regulatory provisions but also in directing tax revenue to prevention and treatment for young people, environmental protections and job creation in underserved communities," executive director of the Drug Policy Alliance Ethan Nadelmann told the San Fransisco Chronicle. 
Another weed-friendly win: California was the first state to legalize the use of medical marijuana with the passing of Proposition 215 in 1996. The Adult Use of Marijuana Act aims to expand the right to smoke weed to anyone 21 years or older, with or without a medical card, and limits the amount residents can carry and grow in their own homes. The state would also tax every ounce of dried, prepared marijuana buds at $9.25 and $2.75 for an ounce of marijuana leaves used for growing the plant, ABC News reports. 
The legislation also intends to regulate the state's marijuana industry, which some say is lacking proper structure. According to ABC, the Department of Consumer Affairs, the Department of Food and Agriculture and the Department of Public Health would all take part in the regulating process of the marijuana industry under the Adult Use of Marijuana Act, from licensing qualified dispensaries to regulating marijuana cultivation. The entire industry would then be supervised by a Bureau of Marijuana Control. 
An uncertain future: The next steps for the act are complicated. The bill is among several other competing pro-marijuana legislations being looked at as possible additions to the 2016 voting ballot in California, and only one of those can be chosen. 
However, a number of influential groups are backing Parker's ballot initiative, including the Drug Policy Alliance and the Marijuana Policy Project, the San Francisco Chronicle reports. According to Fox40, the recreational marijuana bill would generate anywhere from $500 million to $800 million in state tax revenue. 
The ballot will be voted on in California during the presidential elections on Nov. 8, 2016.