Takata Fined $70 Million by US Government for Air Bag Related Lapses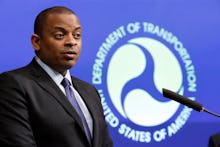 Japanese air bag maker Takata got hit with a $70 million penalty fine on Tuesday after failing to rapidly alert regulators about defective air bags, according a press release from the Department of Transportation's National Highway Traffic Safety Administration. The air bag manufacturer could face up to $130 in additional fines that, if the firm were to incur a total punitive fee of $200 million, would mark the largest civil punishment the auto industry has ever seen, CBS News reported. 
NHTSA transportation secretary Anthony Foxx, joined by Mark R. Rosekind, an NHTSA administrator, announced Takata's fine during a press conference on Tuesday. 
"For years, Takata has built and sold defective products, refused to acknowledge the defect, and failed to provide full information to NHTSA, its customers, or the public," Foxx is quoted in the adjoining press release. "The result of that delay and denial has harmed scores of consumers and caused the largest, most complex safety recall in history. Today's actions represent aggressive use of NHTSA's authority to clean up these problems and protect public safety."
Takata will be allowed to pay up to $70 million of the fine in cash, and will be subject to five yeas of observation that puts a NHTSA official on the ground to assess and report the company's compliance and progress. 
Takata has recalled some 19 million vehicles with the potentially faulty air bags. 
"Today, we are holding Takata responsible for its failures, and we are taking strong action to protect the traveling public," said Rosekind, per NHTSA's release. "We are accelerating Takata recalls to get safe air bags into American vehicles more quickly, ensuring that consumers at the greatest risk are protected, and addressing the long-term risk of Takata's use of a suspect propellant."