Washington Redskins Respond to Team Name Revoke With Lawsuit Listing "Lewd" Patent Names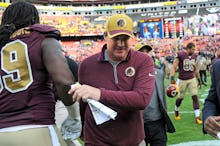 After U.S. District Judge Gerald Lee Bruce upheld a ruling to revoke six of the NFL's Washington Redskins' trademarks in July because it "may disparage Native Americans and bring them into contempt or disrepute," the team responded with a long-winded list of companies with what could be seen as offensive and vulgar names trademarked by the U.S. Patent and Trademark Office.
Page 39 of the brief, filed by the Redskins team on Oct. 30, consists of almost 40 porn, alcohol and clothing companies with unorthodox names like Capitalism Sucks Donkey Balls, Dirty Whooore Clothing Company and Shank the B!t@h.
Review the egregious list in an excerpt from the lawsuit below:
No one today thinks registration reflects government approval. ... Why are numerous Confederate-flag logos and so many lewd sexual depictions on a "government curated principal register"? Does registration of The Church of Jesus Christ of Latter-Day Saints unconstitutionally endorse religion? 
And the list goes on in a bonus footnote, where the team lists other patented names, including Anal Fantasy Collection, Gringo Style Salsa, Make Your Own Dildo, Contemporary Negro, Party With Sluts and Crippled Old Biker Bastards.
The team also said in the brief that canceling its trademark violates free speech, arguing that a trademark is not government speech, rather it is speech protected under the First Amendment that is protected by the government from infringement. "The notion that all 2 million currently-registered marks are government speech is astounding," the brief reads. "... The [U.S. Patent and Trademark Office] has registered hundreds if not thousands of marks that the team believes are racist or misogynistic, vulgar or otherwise offensive."