There Is a Fashion Week Happening in the Midwest Right Now — Here's Why It Matters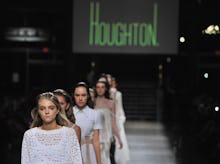 On Wednesday, elites from the New York fashion industry traveled to a small Midwestern city for a "fashion week" not often mentioned among the roundup of runway shows that take place in New York, London, Milan and Paris, not to mention the edgier evolving fashion capitals, such as Tokyo and Lagos.
No, St. Louis Fashion Week, which is taking place this week in Missouri, doesn't get a ton of attention, particularly from New York-based media. But a lot of big-city thinking that has gone into the event and ones like it. St. Louis is just one of dozens of small cities playing host to seasonal fashion weeks, including Miami,  Austin, Texas and Charleston, South Carolina.
And it's smaller cities like St. Louis that can make all the difference for aspiring designers to hit it big.
What a small city can do differently: "The fashion industry is always looking for the next hot talent, and you never know where you'll find it," Fern Mallis, credited with creating New York Fashion Week and an adviser for weeks in cities like Miami, Cleveland and St. Louis, told CNN in 2013. "It's a funny industry, where you need to be seen, and the best way for designers' work to be seen is on the runway, wherever it is." 
That doesn't necessarily mean that the designers are all "homegrown," so to speak. The five standout brands of St. Louis Fashion Week are all, in fact, based in New York. The power of a local fashion week is the "big fish in a small pond" effect, by which smaller designers can get more sustained attention, support — and funding.
Azede Jean-Pierre, Eckhaus Latta, Novis, Haus Alkire and Houghton all competed in the Caleres Emerging Designer Competition on Wednesday, judged by a panel of industry professionals including Mallis. The winner takes home a cash prize of $25,000 underwritten by Caleres, formerly Brown Shoe Company, a St. Louis-founded footwear company that houses brands such Sam Edelman, Diane von Furstenberg and Franco Sarto.
The handsome award is one feature that sets St. Louis apart from other regional weeks. While it doesn't quite measure up to the $400,000 of New York's Council of Fashion Designers of America/Vogue Fashion Fund award, it dwarfs that of, say, Charleston, which awards its winning emerging designer $10,000.
But beyond the cash, St. Louis is proving to be a real incubator for talent. Elizabeth Tucker is a co-founder of St. Louis Fashion Week and also sits on the board of the St. Louis Fashion Fund, a nonprofit that supports the city's fashion week and is working to launch a fashion incubator for the city. She and her fellow board members, including local leaders in media, education and law, aim to make St. Louis a "healthy ecosystem" for fashion innovators, she told Mic, in a way fast-moving cities aren't.
As a global fashion capital, New York City boasts most of the top fashion publications, company headquarters and design schools. But it's a saturated market — over 200 designers were packed into this past New York Fashion Week, from the smallest indie names to more established brands like Marc Jacobs and Tommy Hilfiger, making it difficult for designers to distinguish themselves.
"St. Louis is really becoming the next city that's fostering talent," Melissa Hall, founder of the Emerging Designer consultancy, told Mic. "I think they're making an interesting play, in that the talent for the design competition and for the incubator does not have to be in St. Louis, but St. Louis is a destination for emerging designers to thrive."
It does help that St. Louis is closely aligning itself with New York. Hall said St. Louis is "breaking the mold" by selecting designers that are already close to the CFDA, having won awards in New York or made an impact there. "It's really high-level talent for this emerging designer competition," she said.
Getting diverse voices heard: How can we tell? Just take a look at previous years' designers, some of whom fashion fans will recognize — and they're a diverse bunch. 
Charles Harbison, Yigal Azrouël, Timo Weiland and Tess Giberson are just a handful of designers that went on from St. Louis to become industry favorites. This year's designers prove no different, boasting diverse backgrounds and offering nontraditional elements to their designs that have already resonated in the big leagues.
This past New York Fashion Week, Eckhaus Latta sent the media abuzz with a lineup of diverse models, something noteworthy in a sea of thin, white women. Azede Jean-Pierre's eponymous brand has also gotten buzz, especially when first lady Michelle Obama wore one of her designs on a 2014 cover of Essence, not to mention celebrities like Solange Knowles and Lady Gaga.
"I'm excited for the world — and St. Louis — to see what we have in store," Jean-Pierre told St. Louis American.
The world should get ready for one name in particular: Houghton. The brand, helmed by designer Katharine Polk, was the big winner at Wednesday's Caleres Emerging Designer Competition, taking home the prize money as well as the moment in the spotlight in front of industry influencers who can take her to the next level — and into mainstream closets.
"These initiatives expose young designers to a world that is incredibly hard to break into," Polk told Mic. "Once nominated or accepted into a fund or incubator, you have a spotlight on you that you would never otherwise have. You now have the attention of people that would never otherwise know your name."